Domestic Violence Arraignments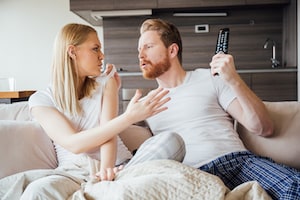 When someone is arrested for an alleged domestic violence crime, they are required to appear before the court the next business day for a domestic violence arraignment. Courts take domestic violence arraignments very seriously, and they are considered priority one business functions and, as such, are considered one of the core missions of the judicial branch. There are many decisions that are made during a domestic violence arraignment, which can have profound effects on your life for the duration of the case. It is important to know what to expect before you walk into the court for your arraignment.
If you are attending a domestic violence arraignment, you should plan to be in attendance at court until at least 12:30 p.m. or 1:00 p.m. In some instances, depending on how busy the court is, you may even have to come back after the lunch break at 2:00 p.m. We suggest that you dress comfortably but in business casual attire. A neat and professional appearance can go a long way. Give yourself a few extra minutes to find a place to park and clear the security checkpoints.
Mandatory Arrest and Next Day Arraignment
With non-domestic violence offenses, the police have discretion about whether or not to make an arrest, and often they won't take any action if the victim does not want to "press charges." On the other hand, in a domestic violence case, the police are required by C.G.S.§ 46b-38b(a) to make an arrest if they find probable cause that a crime was committed. The victim can't "drop the charges." Probable cause is a low evidentiary standard, and the police to not need to discover much proof before they have to make an arrest. Some common kinds of evidence that could lead police to make a domestic violence arrest are:
Witness statements
Observations of bruises or marks on the victim
Observations of broken objects
Victim's statement
Admissions of the offender
Once an arrest is made, the police will assign you a court date on the very next business day for a domestic violence arraignment. If your arrest occurs on the weekend, your arraignment will be on Monday morning. On those holiday weekends, when the court is closed on a Monday your arraignment, will be held on Tuesday. It is recommended that you contact a Connecticut domestic violence defense attorney before your arraignment to go over the specific details of your case and plan to minimize potential consequences.
What to Expect at Your Domestic Violence Arraignment?
The essential purpose of a domestic violence arraignment in Connecticut is to quickly put in place an order of protection to protect the alleged victim. This function is a legislative mandate and is treated seriously by the judicial branch. At your arraignment, the court is not going to hear your side of the story or act on the merits of the case. The sole purpose of an arraignment is to determine which level of the order of protection the court should order and also determine if any conditions of release should be imposed.
The process may be somewhat overwhelming, especially if you have never been arrested before. Since orders of protection can result in your removal from the family home and inability to have contact with the alleged victim, it is essential to seek legal advice from an experienced domestic violence lawyer before you get to the court.
A domestic violence arraignment is probably going to be your longest day in court throughout the duration of your case. Domestic violence arraignments are held in one of the 13 G.A. Courts in Connecticut. In Fairfield County, they are G.A. #1 in Stamford; G.A. #2 in Bridgeport, G.A. #20 in Norwalk and G.A. #3 in Danbury.
While courts open at 9:00 a.m., in most instances, it takes some time for the clerk's office to create a file, docket number, and circulate copies of the police report to the state's attorney and family relations office. Your first step should be to sign at the office at family relations. If you are attempting to represent yourself, it is essential to remain calm, be patient, and act professionally towards all the staff at the court. While your arrest may have been wrongful, unjust, and a violation of your Constitutional rights, the staff at the family relations office is not the right place to address those concerns.
Meeting with Family Relations Officer
The family relations office performs many functions in a domestic violence case. The family relations officer acts as the liaison between the court, victim's advocate, and state's attorney in making recommendations about the level and type of order of protection to impose in your case. Also, family relations often makes recommendations for conditions of release, which can include anger management and substance abuse therapy. Given the expedited nature of a domestic violence arraignment, the recommendations of the family relations officer are usually imposed by the court in the vast majority of cases.
Your meeting with the family relations officer will usually last only a few minutes. Before you have been invited into the officer's office, they will have already read the police incident report. Since you don't have a copy of the police report yet often, you are operating at a disadvantage as you are unaware of all of the allegations and witness statements against you.
The family relations officer's principal task on the day of your arraignment is to conduct a rapid screening of your case to ascertain the appropriate level of protective order to recommend. During this process, the family relations officer will conduct screening using a computer program called the "Domestic Violence Screening Instrument - Revised."Every defendant is asked the questions prompted by the program before the arraignment. The resulting risk assessment score is relied upon by family relations to evaluate what level of protective order to recommend to the court. Accordingly, it is recommended to speak with an experienced Connecticut domestic violence attorney before your arraignment to get some guidance on how you can improve your risk score and mitigate the situation.
Victim Input
In Connecticut, victims of crime have Constitutional rights to be heard and express their opinion about any potential plea disposition. In the context of a domestic violence arraignment, the victim's input can often have a significant effect. Ironically often, the first person to contact our office after a domestic violence arrest is the alleged victim who wants our help to get the charges dropped against the accused defendant. In many cases, we suggest that these victims should attend the arraignment and let the office of family relations and the victim's advocate know their position. Having a victim who does not want an order of protection is not dispositive, but it is certainly helpful.
On the other hand, in many situations where parties are amid high conflict divorces, we often see victims show up for the arraignment along with their divorce lawyers. In these situations, victims with ulterior motivations often use a domestic violence arrest as a pretext to get a residential stay away order of protection and gain control of the marital residence. If you are in a situation with a hostile victim who has lawyered up against you, it is imperative that you retain a family violence attorney to advocate on your behalf at the arraignment and protect your rights.
Fernando A. Hearings
If you are self-represented during your domestic violence arraignment, it is not a good idea to attempt to contest the order of protection during the arraignment. First, everything you say about your case is being made a court record and will be used against you. More importantly, there is virtually zero likelihood that a pro se litigant is going to convince a court not to enter an order of protection during an arraignment. The principal reason is that the court does not have the time to hear from witnesses or take evidence during an arraignment. Our Connecticut Supreme Court held in the case of State vs. Fernando A., 294 Conn 1, (2009) that a defendant has the right to request an evidentiary hearing to be held within a reasonable period of time in which the state has to prove the continued necessity of the protective order by a preponderance of the evidence.
Some key points about the Fernando A. case are:
You can't effectively contest the validity of a protective order at your arraignment. If you disagree with the level of the protective order issued, you need to request an evidentiary hearing during your arraignment.
If you fail to request a Fernando A. hearing during your arraignment, you can never request one again.
While winning a Fernando A. hearing is not easy, in some instances, it can be tactically advantageous to force the state put its evidence on the record in open court.
You have to fully comply with the terms of the protective order until it is modified after the Fernando A. hearing.
If you want to contest an order of protection in a Fernando A. hearing, it is imperative that you assert that during your arraignment. If you neglect to assert your request for a Fernando A. hearing during your arraignment, it can't be asserted at a later court date. Anyone who wants to conduct a Fernando A. hearing should retain a Connecticut domestic violence attorney to represent them.
Future Court Hearings
After your arraignment, you will be assigned a follow-up court hearing date. Many of the G.A. courts assign domestic violence matters on particular days of the week. For example, G.A. #1 in Stamford handles domestic matters only on Tuesday and Thursday. Your next court date will be much faster, moving than the arraignment. If family relations chooses to accept your case for monitoring, you will be receiving notifications for follow up appointments to meet with the family relations officer who will be supervising your case and making update reports to the state's attorney.
Domestic Violence Defense Attorney
A domestic violence arrest can be a tremendously stressful process. It is important to realize the benefits of having an experienced domestic violence attorney to provide guidance and advocate on your behalf. A family violence lawyer can help to build a strategy to get the best possible outcome both during your arraignment and in achieving the most favorable resolution of your case. You can reach Attorney Friedman at (203) 357-5555 to arrange your free initial consultation. We are available 24/7. Or you can contact us online for a prompt response.