Theft / Larceny
Stamford Larceny and Theft Crimes Attorney
Theft and Larceny Crimes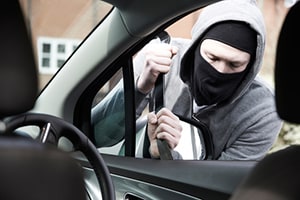 Top Stamford criminal defense lawyers will agree that theft and larceny charges are very commonly charged offenses in Fairfield County. Theft and Larceny crimes cover a wide range of activity from something as simple as failure to scan an item at the grocery store to auto theft and extortion. We understand that many people are wrongfully accused of shoplifting who had no intention of stealing anything. With more than 30 years of experience Stamford larceny crimes defense Attorney Allan F. Friedman will defend your rights and explore every option to try and have your charges dismissed.
One theme remains common among all the larceny crimes, is the shame in finding yourself the subject of a larceny allegation and seeing your name plastered all over the internet and the police blotter. A conviction for some of the more serious felony level larceny and theft offenses could mean a substantial jail sentence, hefty fines and probation conditions. With all larceny and theft convictions an additional serious consequence is the damage to your reputation and your future ability to seek employment. If you are facing a larceny or theft charge you should contact a Stamford larceny crimes attorney today. Because of the lasting stigma that a larceny or theft conviction can leave I believe in a no stone unturned approach to make every effort to explore all available options to seek a dismissal of the charges or in the alternative the use of a pretrial diversionary program. If you are under investigation by the Police, or have been charged with larceny, contact a larceny defense attorney at the Law Offices of Allan F. Friedman for a free initial consultation.
Police Investigations
Many Theft and Larceny investigations in Stamford, Greenwich, Darien, Wilton, Fairfield, Bridgeport, Westport, and Norwalk commence with an investigation by a Police Detective who will contact the subject of the investigation and look to obtain incriminating information. Often the Detective will invite the subject of the investigation into the Police station to "give his side of the story." If you have been contacted by the police DO NOT make any statements. Do not be tricked by slick police tactics. The bottom line is that they are trying to build a case against you and everything you tell them can be used against you. At this early stage of the process it is time to bring in an experienced Stamford larceny defense lawyer from the Law Offices of Allan F. Friedman to take control of the investigation, assert your constitutional rights and work to shut down the investigation before it leads to the issuance of a formal arrest warrant. You can contact an experienced Stamford criminal defense attorney today to stop the police dead in their tracks 24/7 at (203) 357-5555.
What Is a Larceny
Section 53a-119 of the Conn. General Statutes defines larceny as acting with an "intent to deprive another of property or to appropriate the same to himself or a third person, he wrongfully takes, obtains or withholds such property from an owner." Larceny includes the following types of crimes:
Embezzlement
Obtaining Property by False Pretense
Extortion
Defrauding of a Public Community
Theft of Services
Receiving Stolen Property
Shoplifting
Theft of a Motor Vehicle
Failure to Pay Wages
Based upon the allegations of the particular case, a larceny crime can be charged anywhere from a relatively minor class C misdemeanor which has a maximum penalty of 3 months in jail and or a $500 fine all the way up to a Class B Felony which can be punished by up to 20 years in prison and or a $15,000 fine. The Level of the offense charged is based upon the value of the property stolen. No matter the type or level of larceny crime you are charged with, let our 30 years of experience as a larceny crimes defense attorney serving Stamford go to work to get the best possible result for your case.
Resolution of Larceny Cases Through Restitution Payments
Most of the best Stamford criminal defense attorneys will agree that a common theme in reaching a favorable resolution to larceny and theft charges in our local courts has been "making the victim whole" or in short paying restitution for the amount which has been claimed to have been stolen. In past cases we have had great success in having larceny and theft cases dismissed or the clients placed into diversionary programs which lead to dismissal of all charges by working with the alleged victim to arrange payments for restitution.
Defending Larceny Allegations
A. Legal Defenses
Larceny cases are not open and shut cases like for example simple possession crimes which require no mental intent as an element of the crime. As we have seen from the statutory citation of larceny that it is a crime that requires proof of a mental intention to deprive another of their property. The requirement of the proof of mental intent is a tough burden for the State to prove. It is important to review all of the factual details of your arrest with an experienced Stamford larceny crimes attorney.
There may be issues with the arrest, interrogation and collection of evidence by Police in your case. Was your arrest lawful? Have your constitutional rights been violated? Did the Police read you your rights before questioning you? Where you afforded an opportunity to speak with an attorney? If any of your basic Constitutional rights were violated this may be a basis upon which to file a motion to suppress the evidence against you and lead to a dismissal of the charges.
B. Factual Defenses
I approach every single case with the conviction that my client is cloaked with the presumption of innocence. The State has the burden of proving the allegations against a client beyond a reasonable doubt which is the highest standard of proof in our legal system. We will carefully examine the Police reports and witness statements against you with an eye towards discovering any errors or inconsistencies. Very often in larceny cases the wrong person may be implicated. In other cases victims may exaggerate their financial claims or losses which result in a higher level of offense bring charged as the level of the offense is related to the value of the alleged theft.
Where warranted forensic accounting investigations can lead to exculpatory information. In today's information age, electronic surveillance and communications evidence in some instances can hold the key to unlocking our defensive victory. When your future is on the line we will leave no stone unturned to provide you the best possible defense. Intelligence, tenacity and hard work are the keys to building a solid criminal defense strategy. Our objective is to use every means possible to have the charges dismissed or thrown out, or significantly reduce the charges. Contact a Stamford larceny crimes defense attorney today to have a free initial consultation and start working on a defense strategy to resolve your case.
C. Diversionary Programs
For first time offenders the accelerated rehabilitation program provides an opportunity to have the charges dismissed. As mentioned above restitution goes a long way towards resolving larceny cases. With minor level misdemeanor level larceny offenses gaining entry to the accelerated rehabilitation program is a relatively straight forward process. As the monetary value of the claimed loss involved in the larceny grows and the charges range into the felony level offenses the difficulty level involved in having an accelerated rehabilitation program application granted increases. In every accelerated rehabilitation application it is defense counsel's task to convince the Court that the crime is "not so serious" and that applicant is not "likely to offend again in the future." This is a very ill defined and ambiguous term with no clear meaning. Obviously no one can predict the future. Basically what it boils down to is that the Judge must weigh the facts of the alleged crimes against the mitigating factors weighing in support of the offender to decide whether to grant the program. For class C felonies "good cause" must be shown in order for the Court to grant the application. This is an even higher threshold to reach. It is essential when having your application heard before the court that your defense counsel have prepared sufficient mitigation documents to support your application and that you have a talented and experienced advocate who can strike the appropriate balance in the words chosen to convince the Court to grant the application. It should be noted that all decisions on accelerated rehabilitation applications are final and can't be appealed so it is essential to get it right the first time. If you qualify for the accelerated rehabilitation program I invite you to come in for a free consultation to review the facts of your case and my tactics for making a winning accelerated rehabilitation application argument.
Let Us Defend Your Theft / Larceny Arrest!
If you have been charged with a theft or a larceny crime, you should speak with a Stamford larceny defense lawyer as soon as possible to go over the details of your arrest. With more than 30 years of experience in the defense of larceny and theft charges in Stanford Attorney Allan F. Friedman can give you sound legal advice.
We work on a flat fee basis and our rates are very reasonable. Call Attorney Friedman at (203) 357-5555 to schedule your free initial consultation and case evaluation – we are available 24/7 - 365 days a year. Or you can contact them online for a prompt response.