Traffic Violations
Connecticut Traffic and Motor Vehicle Offenses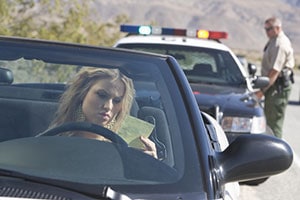 If you recently received a traffic ticket in Connecticut you should seek assistance from a Stamford traffic violations attorney. We understand how it feels to be on the road just going about your business only to be suddenly stopped by a police officer and issued a traffic ticket. Unfortunately, traffic tickets and motor vehicle misdemeanors often result in a wide range of serious consequences. From the loss of your license, hefty fines and surcharges, increased insurance rates, these consequences can have a significant impact on your life. Some motor vehicle offenses are actually criminal offenses which not only result in the immediate loss of your license but also can result in a criminal record. Those who drive for a living and have a CDL, a ticket can lead to the loss of your CDL and ability to work. If you are looking to make an informed decision and take the best course of action you should seek legal counsel. If you have received a traffic ticket of any kind ranging from a cell phone violation, a speeding charge to a charge of reckless driving in Greenwich, Darien, Stamford, Norwalk, Westport, Wilton, Fairfield or Bridgeport then you should contact a Stamford traffic ticket lawyer with 25 years of experience in handling traffic and motor vehicle offenses and speeding tickets at the Law Offices of Allan F. Friedman. Contact us today for a free initial consultation.
Common Motor Vehicle Charges That We Handle
Throughout the State of Connecticut the statistics demonstrate that the issuance of tickets for moving violations is increasing each year. In Stamford and Greenwich the Police have been setting up sting operations targeting cell phone and seat belt violations in which they issue dozens of tickets per hour. The reality is that the vast majority of motorists simply mail in a check and pay the ticket. This is a huge source of revenue for the State and Police Departments and is what motivates these efforts to set up the speed traps and cell phone stings.
Here is a list of the most common charges we handle:
Operation without a License C.G.S. 14-36
Operation under Suspension C.G.S. 14-215
Reckless Driving C. G. S. 14-222
Evading Responsibility C. G. S. 14-244
Misuse of Plates C.G.S 14-147
Operation Without Insurance C. G.S. 14-213b
Speeding C.G.S. 14-219
Using a Cell Phone or Texting While Driving C.G.S. 14-296aa
Failure to Stop for a School Bus Stop Sign C. G.S. 14-279 and
Failure to Obey Traffic Control Signals / Red Lights C.G.S. 14-299
It should be noted that often a motor vehicle stop can lead to other charges such as drug possession and operation under the influence. In many instances the police are making motor vehicle stops as a pretext to look for more serious criminal activity. Often, if you are cooperative, friendly and respectful that may elect to let you go with a warning. At the very least on the so called "back up sheet" notes that the State's Attorney reviews when taking action on your case the officer may note that you had a "good attitude." This can go a long way to aiding your Stamford traffic violations lawyer to get you a more favorable resolution. Never argue with the police when you are being stopped or get into a confrontational tone.
Never Mail in a Traffic Ticket or Plea Guilty on Line
Right after handing you a ticket the very next thing the arresting officer will tell you is that you can just mail in the ticket and pay the fine or do so on line – never do that – always plead not guilty and request a Court date. If you were to plead guilty to any motor vehicle violation, although the ticket on the back says that they will not assess points if you plead guilty by mail or on line, that information is not accurate. First, each offense that you plead guilty to becomes a part of your permanent driving history record. Your auto insurance company re-examines your driving history each year and your rates can increase significantly as you start to pick up moving violations. These rate increases can last for several years. In addition, if you are over the age of 25 and pick up 3 moving violations you will be forced to attend a driver's education retraining program and placed on a probationary status. The next ticket in the following 36 months would result in a license suspension.
Obviously, the preferred strategy is to attempt to have all moving violations either dismissed outright or reduced to non-moving violations which carry no points. Never plead guilty by mail or on line. The best course of action is to retain an experienced Stamford motor vehicle violations attorney to try and have your ticket dismissed.
How Does This Work? Do I Really Need an Attorney?
When you get a ticket it is often not readily apparent just how serious the charge is or what kind of charge it is. This is why you should always speak to an traffic ticket attorney to discuss your options. Over the course of many years I have had many clients who have received a misdemeanor summons for evading responsibility or other serious motor vehicle charges who were not aware that it was a criminal arrest, would result in a criminal arrest history and carried the potential of a jail sentence and immediate license suspension upon conviction. Those clients were under the assumption that just because the arresting officer just handed them some pieces of paper with a court date on it that it was not an arrest because they were never read their rights or taken to the police station. That is why it is very important BEFORE you plead guilty to any ticket or motor vehicle summons that you have a consultation with an attorney at the Law Offices of Allan F. Friedman to review the charges and consequences of a guilty plea.
When you schedule your free initial consultation case evaluation we will review all of the facts of your case. We will provide you free honest and candid assessment of your options and counsel you on the best plan to handle your matter. Every Court handles motor vehicle cases differently. We have experience in working in Courts all over the State of Connecticut. We will discuss the goals of our representation which are usually a dismissal or a reduction of the charges to a non-moving violation which carries no points. In many cases having an experienced Stamford traffic violations attorney to handle your traffic ticket or moving violation matter can make the difference in having that matter dismissed or reduced down to a lesser charge. Of course if you are charged with a more serious motor vehicle crime like evading responsibility, reckless driving, operation under suspension or other misdemeanor offenses which require a mandatory Court appearance you are going to need an attorney to work to resolve the charges while minimizing the consequences. Many first time offenders are eligible for diversionary programs that can lead to dismissal of all charges and the preservation of your driver's license.
We will let you in advance how we intend to achieve our objective to resolve your case. Finally, in motor vehicle matters our legal fees are very reasonable flat fee rates. There are no surprises, we work with written retainer agreements and everything is laid out in black and white.
Contact a Connecticut Traffic Ticket and Motor Vehicle Violation Ticket Attorney Today!
If you have received a ticket for speeding , operation under suspension, evading responsibility, reckless driving, or another motor vehicle violation in Greenwich, Stamford, Norwalk, Darien, New Canaan, Cos Cob, Fairfield, Westport, Wilton, Weston, Bridgeport and throughout the County of Fairfield do not hesitate to contact the Law Offices of Allan F. Friedman. We work on a flat fee basis and our rates are very reasonable. Call Attorney Friedman at 203.515.4110 to schedule your free initial consultation and case evaluation – we are available 24/7 - 365 days a year. Or you can contact them online for a prompt response.
Related Links