Unlawful Restraint
Connecticut Unlawful Restraint Defense Attorney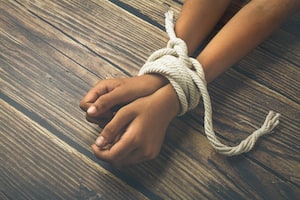 Unlawful restraint is an offense that is often misunderstood. When people think of unlawful restraint, they often think of tying someone up or locking them in a room. However, under Connecticut law, you can be charged with unlawful restraint for just standing in someone's way who is trying to leave a room or blocking someone in with a car. Connecticut's unlawful restraint statute is very broadly drafted and can cover a wide range of actions that interfere with another person's liberty.
Unlawful restraint is very commonly charged in domestic violence cases. When intimate partners argue, it is easy for the confrontation to escalate into a situation where someone is physically restrained or prevented from leaving a room. Because conflicts between intimate partners often become very emotionally charged and volatile, it is common for one partner to attempt to prevent the other from leaving and continue the disagreement. Any attempt to restrain someone is illegal. Under Connecticut law, the two levels of unlawful restraint vary in severity based upon the degree of danger posed to the victim.
What Is Unlawful Restraint?
In Connecticut, there are two levels of unlawful restraint. Connecticut General Statutes § 53a-96 defines reckless endangerment in the second degree as restraining another person. Top Connecticut criminal lawyers would agree that restraint in Connecticut is defined as intentionally restricting another person's movements in a manner that interferes with their liberty by either moving them from one place to another or confining them in the place where the restraint commenced without their consent. To be convicted of this crime, the duration of the restraint can be only momentary. There is no time limitation on the period of time the victim must be restrained.
Since the statue is drafted so broadly, it can be applied to many situations where people feel like they are just arguing. However, under Connecticut law, any restraint upon another person no matter how slight is illegal.
Some examples of situations where you could be charged with unlawful restraint include:
Standing in someone's way in a doorway and refusing to let them leave
Refusing to stop a car and let someone get out
Holding someone in a bearhug and not letting go
Grabbing someone by the wrists and holding them down
Blocking someone's car with your car so they can't drive away
Many clients who are charged with unlawful restraint in the second degree are surprised how easily they can be charged with this offense, which is a relatively serious crime. A violation of unlawful restraint in the second degree in violation of Connecticut General Statutes § 53a-96 is a class A misdemeanor punishable by up to one year in jail and a fine up to $2,000.
Unlawful restraint in the first-degree C.G.S § 53a-95 involves restraining someone under circumstances which expose the victim to a substantial risk of physical injury. Some examples of such circumstances would include:
Holding someone at gunpoint
Restraining someone by the neck
Restraining someone in a vehicle while driving recklessly
Tying someone up and cutting off circulation
A conviction of unlawful restraint in the first degree in violation of C.G.S § 53a-95 is a class D felony punishable by up to five years in jail and a fine of up to $5,000.
What is the Difference Between Kidnapping and Unlawful Restraint?
In Connecticut, kidnapping in the second degree and unlawful restraint are two closely associated criminal offenses that both involve restriction of a person's liberty. While most people think of kidnapping as a crime that involves holding someone for ransom, in Connecticut to be convicted of kidnapping in the second degree, all you have to do is abduct someone. In this aspect, the two offenses are distinguished by how the offender's liberty was restricted.
Abduction is a more severe form of restraint. Abduction involves the restraint of a person with the intent to prevent their liberation by either holding them in a place they are not likely to be found or through force or intimidation. Kidnapping in the second degree does not require that you hold someone for ransom or for any particular length of time. Often in domestic violence cases, the lines begin to blur between what constitutes an unlawful restraint and what constitutes a kidnapping. The decision on which one of these offenses to charge in a particular case is often left to the discretion of the state's attorney. The consequences can be very severe because kidnapping in the second degree in violation of C.G.S. § 53a-94 is a Class B felony that has a mandatory minimum jail sentence of three years in jail and a maximum of twenty years in prison and a fine of up to $15,000. Anyone facing a unlawful restraint or kidnapping allegation should speak with an experienced Connecticut criminal defense attorney before making any statements to the police.
Defending Unlawful Restraint Charges
Lack of Intent
The accused must have acted intending to restrain the victim. In many situations, there is a legitimate reason for restraining someone, such as self-defense or the protection of others. In other cases, someone having a mental health emergency needs to be restrained until first responders can arrive. In these situations, the actor lacks criminal intent and could not be convicted of unlawful restraint.
Citizen's Arrest
Although not recommended, under the common law and C.G.S. §53a-22 (f) a private person is justified to use reasonable physical force to restrain someone who they reasonably believe has committed a criminal offense. It is always better to call 911 for help, but the law does allow you to take matters into your own hands when you see someone commit a crime. It should be noted that individuals who make citizen's arrests face civil liability is they are mistaken, and the person they detain did not commit a crime. However, you could not be convicted for unlawful restraint if you acting upon a reasonable belief that you were making a citizen's arrest.
Consent
If the alleged victim consents to be restrained, such as in sexual S&M situations, then the accused can not be convicted of unlawful restraint as the statute requires a lack of consent.
False Allegations
There have been several arrests in Connecticut of accusers who made false claims of unlawful restraint and sexual assault who were later prosecuted for making false accusations. Many alleged victims have ulterior motivations, and their claims can be false. Our firm never hesitates to get our investigative team to interview witnesses and prove that our clients are innocent of false accusations.
Diversionary Programs
For first time offenders, the accelerated rehabilitation program is often the best alternative to have your charge of unlawful restraint dismissed. Positive aspects of diversionary programs are that they can result in a dismissal of the charges against you, and you never have to plead guilty or accept responsibility for an offense that you did not commit. Give us a call to discuss the possibility of having your case dismissed by using a diversionary program.
Contact a Connecticut Unlawful Restraint Attorney Today!
Having an experienced and zealous advocate on your side if of the utmost importance when facing a criminal allegation. Connecticut criminal defense lawyer Allan F. Friedman will investigate all of the circumstances surrounding your case and advise you concerning the best options to achieve a favorable resolution. Attorney Friedman will work hard to defend your rights and avoid a conviction. Call Attorney Friedman at (203) 357-5555 to schedule your free initial consultation and case evaluation - we are available 24/7 to respond to urgent matters. Or you can contact us online for a prompt response.