How to Get Through Your Domestic Violence Case
Overview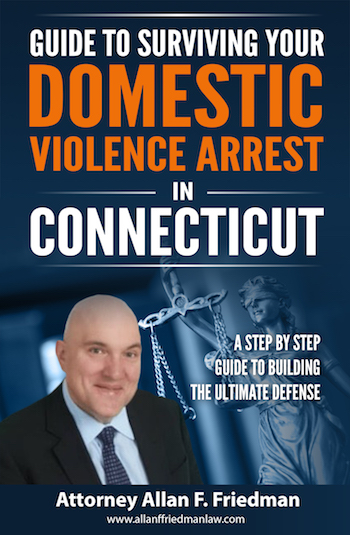 Ask any top Stamford domestic violence defense attorney and they will agree that getting through a criminal domestic violence case can prove to be one of the most stressful and emotionally testing ordeals you can face. Not only are you dealing with a criminal case but in addition you often have to face criminal orders of protection and can face alienation from your family members and removal from your home for extended periods of time. Domestic violence brings the added dimension that the victim(s) of your alleged crime are your family members so there are family wounds to heal and emotional trauma to overcome. In some situations the arrest itself can be the so called "last straw" in a relationship and lead to a divorce or an end to the relationship. Added to these factors is the fact that the domestic violence Courts are backlogged and have heavy dockets and therefore domestic violence cases move very slowly. You need to have a lot of patience and work with your Stamford domestic violence defense attorney in order to achieve a favorable result to your criminal case in the Court so that you can move on with mending the trauma back at home and healing your family. In this section I am going to give some recommendations based upon my 30 years of experience in defending domestic violence cases and answer some questions that my clients ask me almost every day.
1. Hire an Experienced Domestic Violence Attorney
Although some of the charges in domestic violence Court may seem somewhat trivial such as breach of peace or disorderly conduct and you could probably get the case resolved without an attorney there is too much on the line to risk going it alone. A conviction for any domestic violence offense will have a lifelong effect upon your reputation and your earning capacity. While these kind of cases are pending against you they show up on criminal background checks and can cause you to lose out on employment opportunities. A misdemeanor conviction for certain family violence crimes will result in a lifelong prohibition against owning firearms. By hiring an experienced Stamford criminal defense attorney you will get your case resolved as quickly as possible and in the most favorable manner. When you are facing the power of the State you need an experienced and knowledgeable criminal defense lawyer to advise you and stand by your side to protect your rights and fight for the best outcome.
2. Do Not Violate the Terms of any Criminal Orders of Protection
Go over your orders of protection carefully with your defense counsel and make sure that you follow them to the letter. The number one complication that I see in domestic violence cases that I am handling on a daily basis are so called "technical violations" of criminal orders of protection where a client has contacted the victim in some manner in violation of the terms of an order of protection. If you pick up the additional charge of violation of a protective order not only is that a serious felony charge that you will be facing but it is going to make the resolution of your original domestic violence case much more complicated and will take additional time also. No matter how tempting it may be to contact the victim while your case is pending - if you have a no contact order don't do it - you have to look at the big picture and keep in mind that the order or protection is only temporary and will eventually be lifted by the Court. A little patience at this time will pay huge dividends latter.
3. Be Extra Careful with "Partial" Orders of Protection
Many people are really happy when they get the least restrictive so called "partial" order of protection instead of a full no contact order because it allows them to have contact with the victim and continue their relationship. However these type of protection orders do create a lot of grey area and danger for allegations of violations of the order of protection. A no contact order is black and white. It simply says do not contact the victim. It is easy to understand when it is violated. A "partial" order which includes the language not to assault, threaten, harass, or interfere with the victim has a lot more grey area. There is a lot of ambiguity in the words "harass" and "interfere." In some situations victims of domestic violence have been known to use these "partial" orders of protection as swords and turn a minor disagreement into a situation where the accused winds up being arrested for a felony charge of violation of an order of protection based upon exaggerated and false allegations. If you are the subject of a "partial" order of protection I advise that you have to be extra careful while the order is in effect and err on the side of caution in all of your dealings with the victim. Too many defendants become comfortable with the situation and later wind up getting into an argument or disagreement that leads to a call to 911 and an additional arrest for violation of an order of protection. If you are subject to a "partial" order of protection have a in depth conversation with your Stamford domestic violence defense attorney and have a discussion of the best practices to avoid getting into situations where you can be accused of violation of the order.
4. Don't Pick Up any New Arrests
One of the worst things you can do to complicate your domestic violence case is picking up a new criminal case while your current case is pending. The State's Attorney and the Court are going to look very unfavorably upon defendants who keep picking up arrests and you are not going to get a positive resolution of your case in this manner. Obviously the best thing you can do is stay out of trouble and go out of your way to keep a low profile until your case is concluded. Domestic violence cases can linger on for up to two years if you are participating in the family violence education program so it is important to maintain your vigilance and remain focused on avoiding any new criminal arrests until your domestic violence case has been dismissed.
5. Seek Therapy If You Are Going Through a Hard Time Emotionally
Getting arrested for a domestic violence case and going through the Court system can be incredibly stressful. When you add into the mix the family and relationship issues that got you into the domestic violence arrest in the first place it can be emotionally overwhelming. A few sessions with a therapist can prove to be very helpful in getting you through the domestic violence Court process and also rebuilding your relationship with your loved ones. However, in most cases proof that you are seeking therapy can also be highly beneficial in getting a more favorable resolution in your case and / or in getting the Court to modify any criminal orders of protection that may have entered. There is almost no domestic violence case where seeking therapy is not going to have a positive impact on settlement negotiations with the State's Attorney. In addition, many clients report that working with an experienced therapist has really been a useful and productive experience that has helped them get through the difficult process of dealing with a domestic violence case. My recommendation is to speak with your Greenwich domestic violence defense lawyer and see if engaging in some private therapy sessions will be helpful in reaching a more favorable resolution in your case. If you are feeling stressed out and in need of help do not hesitate to seek professional assistance which can be of enormous help.
6. What Time Does Court Start? What to Wear to Court?; Etc
Domestic violence cases are heard on special days known as "d/v" days. Court starts at 10:00 a.m. and you should usually try to get there around 9:30 a.m. so that you can go over any last minute details with your attorney. You do not want to arrive late for your Court appearances as the Court may issue a re-arrest order which will require additional headaches to get resolved.
A lot of clients ask what they should wear to Court. Ideally you want to wear the kind of business attire you would wear to a job interview. You want to make a good impression upon the Judge and the State's Attorney. This is not the time for outlandish fashion statements or overly casual appearances. I am confident that if you are taking the time to read this material that you will make the effort to present yourself professionally when you appear in Court.
If you have any fines or program fees (such as the family violence education program) to pay, those payments must be made on the same day as your Court date. The Court accepts cash, personal checks and credit and debit cards.
7. There Is Light at the End of the Tunnel
The vast majority of domestic violence defendants are first time offenders who have never been arrested before and are facing their first blush with the criminal justice system. Although it may seem very confusing, frustrating and stressful to go through the process most cases end with a dismissal of all charges. When you are in the midst of the process it may seem like it is taking forever and many clients report that they are feeling very stressed out about the experience. However, in most cases the end result is going to be a positive one and you will be left with no criminal record and your charges will be dropped. The most important thing that you can do when you are facing a domestic violence arrest is contact a Stamford domestic violence attorney as soon as possible so you can get working on an effective defense strategy from day one and make the process as quick as possible.
Let Us Represent You in Your Domestic Violence Arrest!
We always provide every client with a free initial consultation. We have more than 30 years of criminal law experience throughout the State of Connecticut. We will review your goals of the representation which are usually a dismissal or a reduction of the charges and any special concerns that you may have. In some cases working with an experienced Stamford domestic violence defense attorney can make the difference in having your case dismissed or reduced down to a lesser charge.
If you have been arrested for a domestic violence charge in Stamford, Norwalk, Darien, Bridgeport, New Canaan, Greenwich, Cos Cob, Fairfield, Weston ,Westport, Wilton, and throughout the County of Fairfield do not hesitate to contact the Law Offices of Allan F. Friedman. We work on a flat fee basis and our rates are reasonable. We offer payments plans as needed. Call Attorney Friedman at (203) 357-5555 to schedule your free initial consultation we are available 24/7. Or you can contact us online for a prompt response.