Connecticut COVID-19 Domestic Violence Developments
How COVID-19 Is Affecting Domestic Violence Cases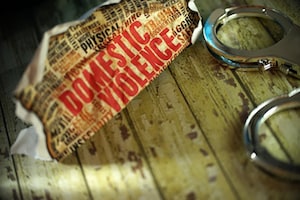 COVID-19 is having a profound effect on society. People are under economic pressure. Having to "stay in place" is creating a lot of tension and conflicts in families. Being in close quarters and sudden disruption of normal daily routines creates a tremendous level of stress in the household. The profound shifts in societal behaviors crated by "social distancing" orders have resulted in significant trends in criminal law.
Since people are primarily staying at home, COVID-19 domestic violence, family violence, and divorce cases are increasing. COVID-19 Domestic violence arrests have increased by 20-30% since the start of the crisis. Speeding ticket enforcement, DUI arrests, and shoplifting crimes are down by 95%. A simplistic way of examining this trend is to say that since more people are staying home, and the streets are empty, home is where more crime will be reported. You have to take domestic violence arrests seriously as the state prosecutes these crimes as priority level 1 matters. If you have been arrested for a domestic violence crime, you should immediately contact a Connecticut domestic violence lawyer.
A 911 Call Usually Results in an Arrest
Since almost everyone is confined to their homes at this time, most domestic violence arrests are initiated by a 911 call either by a neighbor who overhears an argument or by a frustrated or upset family member. The police are required to make an arrest if they find probable cause that a crime occurred due to our mandatory arrest statute for domestic violence. The police will make an arrest even if the purported victim does not want to press charges. It is ironic, but in many cases, the first person to contact our office is the alleged victim of a domestic violence crime who wants our help to help get the accused defendant back into the family home.
Domestic Violence Arraignments During COVID-19
As of this writing, all courts in Fairfield County are closed. If you are arrested for a domestic violence case during the COVID-19 crisis, anywhere in Fairfield County, your arraignment will take place at the Fairfield County Courthouse 1061 Main Street, Bridgeport, CT 06604. Arraignments are presently being held only on Monday, Wednesday, and Friday mornings. If you are arrested for a domestic violence matter, your arraignment will be heard in Bridgeport court on the next business day after your arrest.
Since orders of protection will be issued during your arraignment, it is essential to speak with an experienced domestic violence defense lawyer to get the best legal advice on how to prepare for your appearance. In every domestic violence case, an order of protection will issue.
One the day of your arraignment, you will meet with a representative of family relations who will make recommendations to the court on the appropriate level of a protective order for your case. Since two of the three available levels of protective orders involve you leaving the family home, it is essential to seek legal counsel concerning your rights.
Court Dates During COVID-19 Crisis
Due to the COVID-19 crisis, Governor Lamont has ordered the courts in Connecticut closed except for priority 1 business matters, which include domestic violence arraignments. Once you are arraigned, you will get a court date for May or June when hopefully the Courts will have re-opened. It is essential to take this time to consult with a Connecticut domestic violence lawyer to start taking actions to prepare to lay the groundwork to get your case resolved when the courts open. In many cases, we send our investigator to take witness and victim statements when memories are fresh. Also, it is essential to file discovery motions with the state's attorney to preserve exculpatory video surveillance evidence, police body camera tapes, and 911 dispatch calls. Domestic violence convictions these days are very damaging for future employment opportunities. It is essential to take domestic violence charges seriously and get ahead of the situation proactively.
We are Open During the COVID-19 Crisis
As an essential business in Connecticut, we remain fully operational and serving our clients seven days a week, 24 hours a day, throughout the COVID-19 crisis. We are using video conferencing and DocuSign to serve your needs while staying in touch and remaining fully responsive to your needs. Our receptionist is staffing the office during regular business hours to receive deliveries and shipments. In all respects, our operations continue as usual.
If you have been arrested for a COVID-19 domestic violence case, give us a call today to arrange a free telephone or video consultation to review the best defense strategies to resolve your case in the most favorable manner possible.
An Aggressive Advocate Who Provides Top-Notch Customer Service
Attorney Allan Friedman will investigate every possible option to provide the best possible resolution for your case. Attorney Friedman has successfully resolved hundreds of domestic violence cases over the last 30 years throughout the State of Connecticut. Attorney Friedman will defend your rights and fight to achieve the most favorable result possible. Attorney Friedman strives to deliver the top-notch personalized customer service that you have come to expect. Please take a moment to look over our numerous 5-star client reviews from dozens of satisfied customers.
Speak with an Experienced Connecticut Domestic Violence Attorney Today!
If you have been charged with a domestic violence crime, you should consult with a domestic violence lawyer as soon as possible. With over 30 years of experience defending criminal allegations in Stamford and throughout Connecticut, Attorney Allan F. Friedman can find the optimal approach to achieve a favorable resolution of your case. We work on a flat-fee basis, and our rates are very reasonable. Call Attorney Friedman at (203) 357-5555 to schedule your free initial consultation and case evaluation - we are available 24/7 - 365 days a year. Or you can contact us online for a prompt response.