Defending Your Harassment Arrest in Connecticut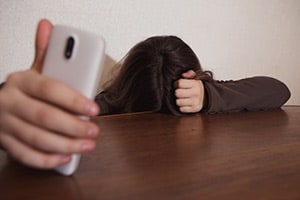 Harassment is a word that is commonly used to describe the persistent annoyance of another person. While the ordinary layperson understands harassment to take many forms, the criminal law in Connecticut narrowly defines what types of harassment are illegal. Under Connecticut law, harassment statutes make telephonic, electronic, written, and mailed communications that are intended to harass, annoy or alarm another person illegal.
Other types of behavior that may annoy other people that do not take the form of a phone call or other written communication could be prosecuted under other laws such as threatening or breach of the peace, but would not constitute harassment.
Harassment Generally
Harassment in Connecticut comes in two degrees. Both degrees share in common that they involve the communication of a message by telephone, mail, computer network, or written communication. Harassment in the second degree is the most commonly charged form of harassment. To be accused of harassment in the first degree, you have to have threatened to kill or physically injure someone, and also you must have previously been convicted of a felony.
You can be arrested for General Statutes § 53a-183 - Harassment in the second degree one of three ways:
Using a telephone to speak to another person in indecent or obscene language,
With the intent to harass or annoy another person, sending a communication likely to cause annoyance or alarm by electronic communication (including email and social media), mail, fax or other written communication,
Using a telephone with the intent to annoy or harass another person, the actor makes a telephone call, whether or not a conversation occurs. (This section applies to hang-up calls and caller ID blocked calls).
Harassment in the second degree is a Class C misdemeanor, which can be punishable by up to 90 days in jail and a fine of up to $500. Since this is a criminal record, it can have significant long-term effects upon your ability to secure employment. Also, anyone convicted of this offense can be ordered by the court to be examined by one or more psychiatrists.
Harassment is a Frequently Charged Domestic Violence Offense
Many people arrested for harassment have an intimate or family relationship with the alleged victim. When a case becomes a domestic violence offense, the consequences become a lot more severe, and often it is more difficult to resolve the case.
Intimate partners or married couples often get into arguments and say things that they later regret. When these disputes spill over onto text messages or instant messenger, they become "virtual," and a written record is made. Many times, people who want to get the upper hand in the argument or perhaps in a related divorce litigation contact the police to make a complaint for harassment.
The police are required to make an arrest in a domestic violence case if they find probable cause that a crime occurred, which is a really low evidentiary standard. Often police zero in on the most inflammatory rhetoric from the accused and ignore the comments made by the victim or the general context of the overall conversation. In many cases, the police take the approach that it is better just to make an arrest and let the court sort the situation out.
Domestic Violence Arrests Require Next Day Arraignments
When you are arrested for harassment that is related to a domestic violence offense, you will be required to attend an arraignment on the very next business day. The purpose of these domestic violence arraignments is to impose orders of protection to protect the victim. While there are varying levels of protective orders in Connecticut in every domestic violence case, some level of order of protection will be issued.
Orders of protection are very important as a violation of the terms of an order of protection is a felony crime in Connecticut. Having an order of protection imposed can result in your removal from the family home if you reside with the victim. Also, the imposition of any protective order will require you to surrender all firearms and could cause problems for those whose job requires them to carry a firearm.
Defending Harassment Allegations
Just because the police have charged you with the crime of harassment does not mean that you are guilty of committing a crime. In most cases, harassment requires proof that you acted intending to annoy or harass the victim, which is difficult to prove. Also, other situations require evidence that your communication was sent in a manner "likely to cause annoyance or alarm." The state has the burden to prove these elements of the crime. In many situations, a careful examination of the entire email or text message chain shows that the alleged victim was a willing participant in the conversation.
Everyone has Constitutional rights to speech, which is protected under the First Amendment. Our Supreme Court has held that our freedom of speech is not unlimited. However, in every instance, the accused's ability to express their opinion, no matter how unpopular, must be considered. All too often, police fail to consider the constitutional rights of the accused to express their views and opinions freely.
When determining what language is "obscene" or "indecent," very often, the analysis involves a balancing of what is known as the "community standard,"which can mean different things to different people. What is a serious insult to one person could be a humorous joke to others.
We have seen many situations where alleged victims are overly hypersensitive, and unreasonable make claims of being harassed by our clients and when we review the content of the messages that were sent by our clients we don't find anything that could be construed as being sent with an intent to harass or annoy.
Preservation of Text Messages, Emails, and Social Media
When we are retained to represent someone accused of sending harassing communications through email, text, or social media, one of the first actions we take is to file a discovery motion with the state's attorney to preserve all evidence. Often the alleged victim does not reveal all of the information to the arresting officers. Additional communications obtained through discovery can help negate elements of the crime. If you have been charged with harassment, you should also back up all of your communications with the victim in a secure format and review them with your defense counsel.
Contact us Today!
If you have been arrested for harassment, we are here to give you five-star customer service with compassion and fight to achieve the most favorable result possible. Attorney Allan F. Friedman has over 30 years of experience defending criminal cases. Call Attorney Friedman at (203) 357-5555 to schedule your free initial consultation. We are available 24/7. Or you can contact us online for a prompt response.