Greenwich Domestic Violence Lawyer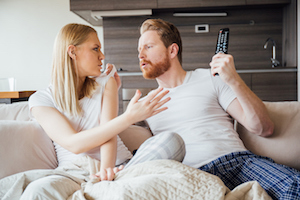 If you have been arrested or are under investigation for a domestic violence crime in Greenwich or if you have a domestic violence case pending in Greenwich then you should call Greenwich domestic violence lawyer Allan F. Friedman to make sure that your rights are protected. These days a domestic violence allegation is treated very seriously. Over the last 30 years, the ramifications of a domestic violence arrest have become increasingly serious as the Legislature has continued to increase the penalties for domestic violence crimes.
Consequences of a Domestic Violence Arrest
Having a domestic violence arrest reported in the local Patch or online newspaper can have a profound impact on your reputation, employment, and finances. Given the lack of any serious crime in Greenwich, most minor domestic violence arrests get reported online, causing a lot of embarrassment. A conviction for a domestic violence offense can have lasting consequences from standing orders of protection, lifetime firearms prohibitions, and you could even face jail. You have to take a domestic violence arrest seriously. You should immediately contact an experienced Greenwich domestic violence lawyer at the Law Offices of Allan F. Friedman to set up a free consultation to review the facts of your case.
A Lot of Domestic Violence Accusations are False
One of the biggest frustrations about being arrested for a domestic violence crime is the reality that these types of allegations are usually based solely on the story of your accuser. In most situations, it is a classic "he said/she said," scenario. Often the alleged victim can be a person with ulterior motivations. Perhaps they are just angry with you, maybe they are seeking revenge, or looking to gain the upper hand. Regrettably, the system can be craftily manipulated by individuals who have an agenda or who seek revenge. The motivation for this kind of vindictive gamesmanship usually comes from a pending divorce, child custody dispute, or in some cases, recently discovered infidelity or jealousy. The Connecticut courts are full of men and women who were accused and arrested for domestic violence crimes they never committed because they were set up. Attorney Friedman never forgets that an allegation contained in a police report is just that – an allegation. Everyone is entitled to the presumption of innocence and a zealous defense.
A Staunch Advocate Who Will Give You Personalized Attention
Attorney Friedman has successfully defended hundreds of domestic violence cases throughout the State of Connecticut. Attorney Friedman will use his 28 years of experience as a Greenwich domestic violence attorney to defend your reputation and get you the best possible outcome. At the Law Offices of Allan F. Friedman, you will receive the top-notch personalized customer service that you have come to expect. Take a moment to look at our 5-star client reviews from satisfied clients who have had their domestic violence cases resolved by our firm.
Mandatory Arrest Statute
Many people have a misconception about domestic violence cases based upon sensationalized media coverage of some high profile cases in the media. The reality is that many domestic violence cases involve relatively minor and often nonviolent disagreements. When the police are called out to investigate a domestic violence complaint, they are required to make an arrest if they find that probable cause exists that a crime has occurred. This is the case even if the victim does not want to "press charges." Often minor verbal disagreements and arguments where objects are thrown around the home can result in domestic violence arrests.
The Greenwich Police Department takes domestic violence cases very seriously. The Greenwich police are known for writing extensive and thorough police reports for every domestic violence arrest. If you pick up a police report of an arrest warrant for a Greenwich domestic violence case involving a relatively minor misdemeanor case, it will read like a major felony arrest from another jurisdiction.
Because arrests are mandatory in domestic violence cases, it is always best to refuse to answer any police questions during a domestic violence investigation and insist on your right to have an attorney present before answering any questions. Many clients think that they can "talk their way out" of the situation, but you can't.
Everything you say can be used against you, so the best approach is to say as little as possible.
Next-Day Arraignment – Criminal Orders of Protection
If you are arrested in a domestic violence case in the Town of Greenwich your case will be heard the next business day for a mandatory next day arraignment at the Stamford G.A. # 1 Courthouse Courthouse located at 123 Hoyt Street in Stamford, Connecticut.
At this court appearance, you will meet with a representative of the office of family relations who will make recommendations to the Court concerning criminal orders of protection that will remain in place during the pendency of your case. In some cases, residential stay away or "no contact" orders can be issued, which effectively prevent you from returning to your home until further order of the Court. Although the police often will tell people who they are arresting for domestic violence offenses not to "worry" and that they should just show up at court without a lawyer, this is really bad advice. You should contact a Greenwich domestic violence attorney as soon as possible after an arrest for domestic violence to get legal advice on how to have the best chance of staying in your home.
Common Domestic Violence Crimes
A crime is treated as a domestic violence offense due to the relationship between the accused and the alleged victim. People who are married, dating, who have previously been dating, cohabitating, have children in common or related by blood or marriage are some of the more common classifications of domestic violence relationships. If your case is being treated as a domestic violence crime, it will be screened by the office of family relations, heard on a special domestic violence docket, and be subject to enhanced scrutiny.
Some of the more common domestic violence crimes that we commonly handle are:
Risk of Injury Charges and DCF Referrals
If you had any minor children at home during a domestic violence incident, it is common for the Greenwich police to add the charge of risk of injury to a minor, which is a felony. They do this even if the allegations of the offense do not directly involve your children. Even if the children are in another room and did not even witness the dispute, the Greenwich police have been known to add the felony charge of risk of injury.
Anytime that the police charge you with risk of injury, they are required by law to make a referral to the Department of Children and Families (DCF), who will initiate an investigation concerning the safety and well being of the children.
You can read more about defending risk of injury charges here. If you have been charged with risk of injury to a minor, you have to treat this allegation very seriously as it is a felony-level offense. An allegation such as this can also be used against you as leverage if you are involved in divorce litigation over child custody.
Criminal Orders of Protection
In every domestic violence case, the Court is going to enter a criminal order of protection to protect the victim while the case is pending. When determining what kind of criminal order of protection to issue, the Court relies on the office of family relations. The factors that go into determining which kind of order of protection which will issue include the allegations in the case, past criminal history of the accused, victim position, and whether there were any injuries. There are three kinds of criminal restraining orders that the Court may impose during your arraignment. The partial order is the least restrictive order and allows you to return to the home and have contact with the victim but precludes you from annoying, harassing, or assaulting the victim while the order is in effect. The residential stay away order includes the provisions of the partial order and also prevents you from entering the home of the protected party. Obviously, this can be very disruptive for families if you are forced out of your own home while the case is pending, which can last for several months. The most restrictive protective order is the "no contact" protective order, which means you can't have any contact of any kind with the victim while the order is in effect. In some cases, Courts carve out limited exceptions for communication by text message or email regarding matters such as child care or visitation.
It is important to understand that only the Court can modify an order of protection. While the victim is legally allowed to contact, you are not allowed to respond if there is a no-contact order. The victim can't modify the terms of an order of protection. The violation of a criminal order of protection is a felony, and the courts take these violations seriously. If you have any questions about the terms of your criminal order of protection and what you can or can not do legally, you should contact a Greenwich domestic violence attorney to review the order or protection with you. If you want to modify an order of protection you should seek legal advice from an experienced domestic violence attorney on the best way to obtain a modification of your order.
The Victim Can't "Drop the Charges"
Many clients and members of the public are under the misconception that a victim of domestic violence can either decide to press or drop the charges. Victims of domestic violence frequently have second thoughts and want to drop the charges after they realize the severe consequences of making a 911 call. State's attorneys have become numb to these concerns. While the positive input of a victim not wanting to seek prosecution can be very helpful in obtaining a faster and more favorable result, it is not dispositive. It has proven to be a major frustration for victims who have no desire for the criminal case to continue to discover that the State often does not take their feelings into consideration.
Resolving Domestic Violence Cases
Most domestic violence cases, especially those involving first-time offenders, can be resolved favorably by using a variety of methods, most of which lead to a dismissal of all charges and no criminal record. This is where a staunch advocate who is able to present your case in the most favorable light is an invaluable asset. The principal objective of any defense strategy is to assure that the charges against you are dismissed. In some cases that involve relative minor allegations and where no one was injured, it is often possible to work with family relations to convince the State's attorney to nolle the charges. This approach is particularly effective where the victim is on board and is not seeking prosecution.
For more serious cases, which may have allegations involving a physical injury or where a victim is insisting on the prosecution, the best approach may be to use a diversionary program for first-time offenders. The family violence education program is a diversionary program that can be used in domestic violence cases to earn a dismissal of your charges. For more severe cases, there are enhanced versions of this program available. The option to choose from a variety of diversionary programs is helpful in resolving domestic violence cases. The best approach is to review all of the facts and details of your case with an experienced domestic violence defense lawyer to formulate the best strategy for getting your case resolved.
Removing Online Arrest Report
These days a domestic violence arrest is a serious matter and has a lot of collateral consequences. One of the most problematic aspects of being arrested for domestic violence in Greenwich is the likelihood that your arrest will be publicized online in local newspapers. In Greenwich, most domestic violence arrests are published in the local publications "The Patch" and the "Greenwich Free Times". This kind of unwelcome negative publicity can be particularly detrimental to high net worth individuals who are working in positions of trust and power. Our office will work to get your domestic violence arrest records sealed in the Court. Upon dismissal of the charges, we can scrub the internet of any and all reference to your arrest for domestic violence when possible. If your name has been posted on the internet regarding a Greenwich domestic violence arrest, give us a call for a free evaluation on internet article removal.
There Are so Many Steps to a Domestic Violence Case in Connecticut, Where do I Start?
If you have been charged with domestic violence, you should immediately contact a Greenwich domestic violence attorney to go over the details of your case. We will gladly examine your specific situations and advise you on the best way to proceed. We work on a reasonable flat fee basis. Call Attorney Friedman at(203) 357-5555to schedule your free consultation and initial case evaluation – we are available 24/7- 365 days a year. Or you can contact us online for a prompt response.
Our office is conveniently located one block from the Stamford Court house.
Greenwich Domestic Violence Resources Additional Greenwich Points of Interest
We are open Monday through Sunday 24 Hours a Day