Greenwich Shoplifting Lawyer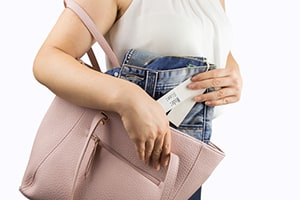 If you have been arrested for a shoplifting or retail theft crime in Greenwich then you should call Greenwich shoplifting lawyer Allan F. Friedman to protect your rights and defend your reputation. Shoplifting and larceny in the 6th degree are crimes of moral turpitude, and an arrest for shoplifting can have significant adverse effects on your ability to seek future employment. That is why you need a tenacious advocate with 28 years of experience in defending shoplifting allegations in Greenwich on your side. Call Attorney Friedman today for your free initial consultation/case evaluation.
Greenwich Shoplifting Investigations
Greenwich is a high-end luxury shopping destination. Stores like Saks Fifth Avenue; Lululemon; Vineyard Vines; Richard's ; and Apple draw shoppers from all over the tri-state region to visit Greenwich Avenue. The word is out on the street that Greenwich is an convenient target for shoplifters and that the stores are filled with luxury goods like Canada Goose jackets, I phones and fancy jewelry. Since so many arrests have been made on Greenwich Avenue at merchants such as Saks Fifth Avenue, the Greenwich Police Department now set up a retail crimes task force. This new initative has placed police officers stationed directly on-site in Greenwich Avenue retailers. These officers are often monitoring video feed from stores and are ready to immediately respond to any reports of suspicious activity on Greenwich Avenue.
A lot of retail theft in Greenwich also involves identity theft and counterfeit credit cards, skimming, and the passing of counterfeit bills. Retail theft in Greenwich is usually more serious than in surrounding communities as the dollar value of the items involved in the theft often is much higher. As will we see later, the amount of the items alleged to have been stolen determines the degree of crime charged.
If you are arrested for shoplifting, larceny, or retail crime in the Town of Greenwich your case will be heard at the Stamford G.A. # 1 Courthouse Courthouse located at 123 Hoyt Street in Stamford, Connecticut. The Greenwich police are the sole police agency that investigates shoplifting cases in Greenwich.
A Zealous Advocate Who Will Give You Personalized Attention
Attorney Friedman has successfully defended hundreds of shoplifting cases in Greenwich and throughout the State of Connecticut. Attorney Friedman will use his decades of experience as a Greenwich shoplifting attorney to defend your reputation and get you the best possible outcome. Attorney Friedman will make sure that you receive the top-notch personalized customer service that you have come to expect. Please take a moment to look at our 5-star client reviews from satisfied clients who have had their shoplifting cases resolved by our firm.
Shoplifting Investigations
Shoplifting arrests usually unfold differently than most other criminal investigations. With most shoplifting cases, you will find yourself initially detained by a loss prevention officer of the retail store. Under Connecticut law, if they have reasonable suspicion to believe that you have stolen an item from their store, they are allowed to detain you, with force if necessary. They are supposed just to hold you until police officers arrive. By law they can only ask you for your name and address. However, in practice these loss prevention officers often attempt to coerce subjects into making confessions and in many cases written admissions of guilt. You have the right to remain silent and should refuse to answer any questions.
In Greenwich, the police will arrive very quickly as they are usually stationed on Greenwich Avenue, and the crime rate is low in Greenwich. There is no use trying to talk your way out of the situation at this point. The best course of action is to remain silent and refuse to answer any questions before you have an opportunity to speak with an attorney. When the police arrive, you should be polite and friendly but refuse to answer any questions. Only provide your name and address. The police will usually try to get you to talk to them. They have a lot of methods they use. A lot of our clients are shocked to discover that it is 100% legal for the police to lie to you in an attempt to get you to talk. If they say, they are going to "go easy on you if you cooperate," don't fall for the trap. The police are doing everything they can to build a case against you, so don't help them. Don't answer any questions and demand an opportunity to call a criminal attorney in Greenwich, CT, before you answer any questions.
What is Shoplifting?
In many cases, shoplifting in Connecticut is charged as larceny in the 6th degree. Shoplifting is not a specific crime in Connecticut; it is simply a variety of larceny. Types of shoplifting include:
Taking goods from a merchant with the intent to leave without paying
To conceal unpurchased items inside a store
Removing, replacing or altering price tags
Not ringing merchandise at self -check out lanes
False item returns
The severity of the larceny offense level is based on the value of the items alleged to have been stolen. Shoplifting can range from a relatively minor class C misdemeanor, which has a maximum penalty of 90 days in jail all the way up to a class B felony, which can be punished by up to 20 years in prison. The level of larceny is based upon the retail value of the property alleged to have been stolen.
| Deg. | Value of Property | Classification of Crime |
| --- | --- | --- |
| First | Over $20,000 | Class B felony |
| Second | Over $10,000 | Class C felony |
| Third | Over $2,000 | Class D felony |
| Fourth | Over $1,000 | Class A misdemeanor |
| Fifth | Over $500 | Class B misdemeanor |
| Sixth | Up to $500 | Class C misdemeanor |
Resolution of Your Shoplifting Charge
The State has the burden of proving that you intended to steal something. While the intent can be proven from the circumstances, often people make simple mistakes. Making a mistake and forgetting to pay for one item is not a crime. Also, if the police did not read you your rights prior to interrogating you, it may be possible to suppress your statements or admissions. Greenwich criminal lawyers know how to carefully review the facts of your case to see if any defenses apply to the allegations against you.
A lot of our shoplifting clients have never been arrested before. Bad things do happen to good people like you, and we are here to help. Over the years we have seen that many first-time shoplifting offenders may have underlying psychological factors weighing upon them which caused them to make a isolated lapse of judgment. In some situations, our clients may be going through a stressful divorce, have a loved one suffering from an illness, or may have financial strains weighing upon them. These stress factors can lead our clients to forget to pay for an item in some circumstances or, in other situations, make ill-advised a spur of the moment decision to shoplift. Often a skilled criminal attorney in Greenwich, CT can use these psychological mitigations to help achieve a more favorable resolution.
The best approach to resolving shoplifting allegations is to attempt to convince the State's attorney to nolle or drop the charges in exchange for community service hours or a charitable contribution. Top Greenwich criminal lawyers will put together mitigation packages to help convince the State's attorney that this incident was an isolated event.
Another common method to resolve shoplifting charges for first-offenders is the accelerated rehabilitation program. Here is a link to a detailed article we wrote with information about the accelerated rehabilitation program how a Greenwich shoplifting attorney could prepare a winning argument for your admission into the program. Successful completion of the accelerated rehabilitation program would result in all the charges being dismissed. Due to the adverse consequences for shoplifting or larceny conviction and the effect on your ability to secure future employment, housing, or even applying for college or the armed services, the best course of action is to get a dismissal of all shoplifting charges whenever possible.
Removing Online Arrest Reports
These days a shoplifting arrest in Greenwich is likely going to result in collateral consequences. One of the worst parts of being arrested for shoplifting in Greenwich is the probability that your arrest will be posted online. In Greenwich, most shoplifting arrests are published in the local publications "The Patch" and the "Greenwich Free Times". This negative publicity can really be a huge embarrassment and cause you a lot of problems in the future unless you deal with removing these articles. Our office will work to get your shoplifting case sealed in the Court. If the charges are dismissed, then we can work to have all these online articles removed from the internet, if possible. If your name has been posted on the internet regarding a Greenwich shoplifting case, contact us for a free consultation on internet article removal.
Why Choose the Law Offices of Allan F. Friedman?
28 years of experience defending shoplifting arrests
We fight for your rights and focus on results that work
Free initial consultation
Reasonable fixed flat-rate fees
Non-judgmental service and personalized attention
Shoplifting arrests take place during evening hours and on the weekends, so we are available 24/7 – 365 days a year to serve you.
Have You Been Arrested for Shoplifting? Where do You Start?
If you have been arrested for shoplifting, you should immediately contact a Greenwich shoplifting attorney to go over the details of your case. We will gladly review your specific situation and give you advice on the best way to proceed. Our fees are reasonable and are based on a flat fee rate. Call Attorney Friedman at (203) 357-5555 to schedule your free consultation and initial case evaluation – we are available 24/7- 365 days a year. Or you can contact us online for a prompt response.
Our office is conveniently located one block from the Stamford Court house.
Greenwich Shoplifting Resources Additional Greenwich Points of Interest
We are open Monday through Sunday 24 Hours a Day