Connecticut General Statutes § 53a-214 – Criminal Lockout
Overview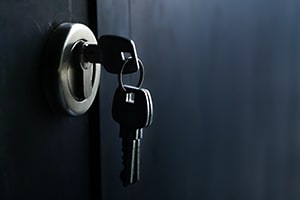 They say you can't take the law into your own hands, and this is especially the case when it comes to so-called "self-help evictions" or criminal lockouts. Under Connecticut General Statutes § 53a-214, it is illegal to deprive a tenant access to their residence or possessions without a valid court order. What landlords need to do is file an eviction action to get rid of the tenant through lawful means to avoid being charged with this misdemeanor crime and being exposed to civil liability.
In many cases, landlords or owners of dwelling units who commit lockouts can also be charged with criminal trespass in violation of Connecticut General Statutes § 53a-108.
This statute applies to the actual tenant and anyone else in the tenant's family or people whom the tenant invites in to live with them, even if they are not listed on the lease or even if there is no written lease. Before you try and do a "self-help eviction" speak with an experienced Connecticut criminal defense lawyer.
This same statute applies in domestic violence situations.
Husbands can't change the locks and toss wives of the marital home without a court order. Just as with a landlord, a spouse who locks out the other spouse can be charged with criminal lockout. The proper procedure to follow would be to go to family court and seek an order for exclusive possession of the marital home.
Elements of the Crime Which Must be Proven by The Prosecution
To prove that the accused committed a criminal lockout under Connecticut General Statutes § 53a-214, the state must prove the following elements of the crime:
A landlord or agent of the landlord or owner;
Denies a tenant access to his dwelling or personal property;
Without any court order
Examples
A man rents out a room in his home to an acquaintance. The tenant pays the first month's rent and never pays any more rent. The tenant is obnoxious and makes a big mess and smokes a lot of marijuana in his room, smelling up the entire home. The man becomes irritated and changes the lock on the front door and leaves all the tenant's property outside on the porch. The man could be arrested for a violation of Connecticut General Statutes § 53a-214 criminal lockout because the man failed to go to court to secure an eviction order. Since he deprived the tenant access to the dwelling unit without having any court order, the man acted in violation of Connecticut General Statutes § 53a-214.
A man's friend is going through a divorce and needs to store some personal items. The man allows his friend to leave the things in his attic. Months later, the men getting into an unrelated personal disagreement, and when the friend comes to retrieve his possessions, the man refuses to allow him access to retrieve them. The man could not be charged with a violation of Connecticut General Statutes § 53a-214 criminal lockout because the friend was never a tenant as defined by Connecticut General Statutes § 47a-1.
Related OffensesDefenses to Connecticut General Statutes C.G.S. § 53a-214 – Criminal Lockout
If the person who was locked out was not a tenant and was not occupying a housing unit, then criminal lockout would not apply. It is also not illegal to lockout short term dwellers at motels and hotels.
If you do not have a criminal record, you might want to use a diversionary program to resolve a criminal charge such as criminal lockout so you can avoid having a criminal record and get the charges dismissed. One such program is the accelerated rehabilitation program.
Penalties
The penalty for a violation of Connecticut General Statutes Section § 53a-214 criminal lockout is a Class C misdemeanor for which you can face up to 90 days and a fine of up to $500.
Criminal Defense for Criminal Lockout
Courts and state's attorneys take criminal lockout charges seriously. As a result, you should speak with an experienced Connecticut criminal lawyer if you or a loved one has been accused of a criminal lockout. Stamford criminal attorney Allan F. Friedman has over 30 years of experience fighting criminal lockout and other criminal charges related to landlord-tenant issues. Attorney Friedman will fight the charges against you, work to have them dismissed, or significantly reduce the consequences.
For more information about defending failure to criminal lockout charges in violation of C.G.S. § 53a-214, contact Stamford criminal lawyer Allan F. Friedman at The Law Offices of Allan F. Friedman to arrange your free, no-obligation, initial consultation. Our offices are located at 1100 Summer St #306, Stamford, CT 06905. Mr. Friedman can be reached 24/7 at (203) 357-5555, or you can contact us online for a prompt response.