C.G.S. § 30-89a – Permitting Minor to Illegally Possess Liquor in Dwelling Unit or on Private Property or Failing to Halt Such Illegal Possession
Overview - Social Hosting Statute - Failure to Halt Possession of Alcohol By Minors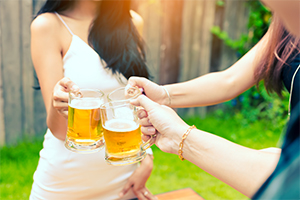 The lawful age to drink alcohol in Connecticut is 21, and this limit is enforced strictly by law enforcement agencies in Connecticut. Most homeowners realize that it is illegal to provide alcohol to minors and understand that doing so is a criminal offense. A more recent law in Connecticut creates criminal liability for social hosts who fail to take affirmative steps to halt the possession of alcohol by minors under the age of 21 on their private property. This law is commonly known as our social hosting law.
We usually see a lot of these arrests around graduation time and over holidays when college students are home for school breaks and gather with each other. Since college students are usually accustomed to drinking on campus, they assume that they can continue to drink at social gatherings when they return home. Often, parents feel it is safer to have these teens drinking under their roof so they can keep an eye on them.
Parents who permit minors to drink on their premises and fail to take affirmative action to stop them can face criminal arrest. Also, there is the potential for civil liability if anyone is injured. In most situations, home owner's insurance policies will not cover parents who allow teens to drink on their property. You have to make reasonable efforts to stop minors from drinking or possessing alcohol on your property. It is not sufficient to say that you did not provide the alcohol to minors. Usually, when parents are arrested for this offense, it will get published in local online publications like the patch and creates significant reputational harm.
Elements of the Crime Which Must be Proven by The State's Attorney
To be convicted of the crime of C.G.S. § 30-89a failure to halt the possession of alcohol by minors, the state's attorney must be able to prove the following elements of the crime:
A person having ownership, possession, dominion or control over any dwelling unit or property;
Knowing permits any minor to possess alcohol upon the property; OR
Fail to take reasonable efforts to halt the possession of alcohol by minors
Examples
An 18-year old girl is having her high school graduation party around the pool in her backyard. Some of her minor friends bring some alcohol with them. The girl's parents see these children drinking alcohol but don't take any action to stop them. A neighbor calls the police to complain about loud noise. When the investigating officers arrive, they discover that minors are drinking in the backyard. The girl's mother and father can be charged with failure to halt the consumption of alcohol by a minor in violation of C.G.S. § 30-89a.
A 20-year old boy invites some of his friends over to "hang out" at his large home in Greenwich, Connecticut. The boy is home from college for winter break. His parents are sound asleep in their bedroom. About 20 youths gather in the family room of the house, and some of them bring alcohol. One of the youths gets drunk and accidentally falls down a flight of stairs. 911 is called, and the responding police officers discover that the teenagers were drinking alcohol, and they were all under the age of 21. The parents could not be arrested for failure to halt the consumption of alcohol by a minor in violation of C.G.S. § 30-89a because they had no knowledge that the youths were drinking in their home.
Related Offenses
Connecticut General Statutes § 53-21 - Risk of Injury to a Minor
Connecticut General Statutes § 30-86 - Sale or Delivery of Alcohol to Minors
Connecticut General Statutes § 30-89 - Possessiona of Alcohol by Minors
Defenses to Connecticut General Statutes C.G.S. § 30-89a - Failure to Halt the Possession of Alcohol by Minors
You don't have to halt the possession of alcohol by minors unless it is occurring on a property that you own, possess, or control. Accordingly, you have no duty to halt the possession of alcohol by minors at a public park or someone else's property.
You can not be arrested for this offense if you do not know the fact that minors had alcohol on your property. If you were away for the weekend, at work, or out for the evening and teens gather at your home to consume alcohol, you could not be prosecuted under this statute as you did not know the minors had alcohol.
The statute requires you to take "reasonable steps" to halt the possession of alcohol by minors. The statute does not require you to call the police on your children and their friends. Is asking the perpetrators to leave sufficient, or do you have to try and forcefully remove the alcohol from the minors? It may seem somewhat illogical to require you to force intoxicated youths to leave your home to comply with this statute as it may create a hazardous situation. The law requires to take "reasonable steps."Every case is different, and you should consider the safety and well being of youths first and foremost.
Penalties
A violation of C.G.S. § 30-89a failure to halt the possession of alcohol by a minor is a Class A misdemeanor punishable by up to one year in jail and a fine up to $2,000.
Contact Us
Having a skilled criminal attorney is essential when you have been arrested. Everyone is presumed innocent until proven guilty. We will investigate the facts and evidence concerning your arrest and determine the best options to achieve a favorable resolution. We are available 24/7 - because your case is important. Attorney Allan F. Friedman will always work to protect your rights and obtain the most favorable result possible. Contact Stamford criminal lawyer Allan F. Friedman to arrange your free, no-obligation, initial consultation. Mr. Friedman can be reached at (203) 357-5555, or you can contact us online for a prompt response.