C.G.S. § 30-86 – Sale or Delivery to Minors, Intoxicated Persons and Habitual Drunkards Prohibited
Overview - Social Hosting Statute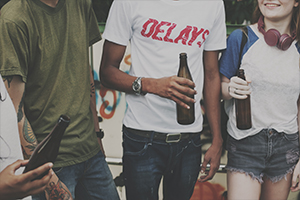 The legal drinking age in Connecticut is 21, and this law is strictly enforced. C.G.S. § 30-86 makes it a felony to sell or provide alcohol to a minor under the age of 21. This law applies to anyone who sells or delivers alcohol to a minor.
This statute is part of the so-called social hosting laws in Connecticut. Connecticut prosecutors very strictly enforce it as many teens have gotten killed or seriously injured after being provided alcohol at social gatherings and then driving.
Elements of the Crime Which Must be Proven by The State's Attorney
To be convicted of the crime of C.G.S. § 30-86 sale of alcohol to minors, the state's attorney must be able to prove the following elements of the crime:
No person shall knowingly sell or deliver any alcoholic liquor to;
Examples
A clerk is working in a bodega that holds a beer sales license. A young man enters the store and purchases a six pack of beer. The clerk never asks to see the young man's identification. The young man is only 18. The clerk could be arrested for the sale of alcohol to a minor in violation of C.G.S. § 30-86. In addition, in most cases, the arresting officers would report the liquor permit holder to liquor control for administrative sanctions against their liquor permit.
A bartender is working in a bar when a young woman comes in and asks for an alcoholic drink. The bartender asks for her identification, and the woman produces a fake Identification, which indicates that he was 23 years old when, in fact, she was only 18 years old. The bartender would have an affirmative defense that he sold the alcohol to the minor woman based upon reliance on her producing fake identification.
An 18-year-old girl is graduating high school. Her parents allow her to hold a graduation party for 80 of her fellow graduates in the back yard. The girl's parents purchase a keg of beer for all the graduates to enjoy. A neighbor calls the police for a noise complaint, and when the investigating officer arrived, he saw a group of youths drinking beer in the back yard. The parents could be arrested for the delivery of alcohol to minors in violation of C.G.S. § 30-86.
Related Offenses
Connecticut General Statutes § 53-21 - Risk of Injury to a Minor
Connecticut General Statutes § 30-89a - Permitting Minor to Illegally Possess Liquor
Connecticut General Statutes § 14-227a - DUI
Defenses to Connecticut General Statutes C.G.S. § 30-86 - Selling or delivery of Liquor to Minors
The statute provides several exceptions where it is legal to provide alcohol to minors. One of those instances is where a minor has used an altered identification or an identification of another person to show that they were over the age of 21, and the person who sold or delivered the alcohol to that minor acted in good faith upon that false identification.
Another exception is that parents are allowed to provide alcohol to their children in Connecticut as long as their children possess alcohol while accompanied by their parents. This authorizes parents to give a glass of wine or beer to the children at dinner. However, parents can't legally provide alcohol to their children's friends.
Penalties
A violation of C.G.S. § 30-86 sale or delivery of alcohol to minors is a Class E felony punishable by up to eighteen months in jail and a fine up to $3500.
For liquor license permittees and their employees and agents, a violation of C.G.S. § 30-86 sale or delivery of alcohol to minors is a Class A misdemeanor punishable by up to one year in jail and a fine up to $2,000.
Contact Us
Having experienced representation is essential when you are facing a criminal allegation. We will investigate all of the circumstances and facts surrounding your arrest and evaluate the best options to achieve a favorable resolution. We are available 24/7 - because your case is important. Attorney Allan F. Friedman will work hard to defend you and avoid the consequences of a criminal conviction. Contact Stamford criminal lawyer Allan F. Friedman to arrange your free, no-obligation, initial consultation. Mr. Friedman can be reached 24/7 at (203) 357-5555, or you can contact us online for a prompt response.