C.G.S. § 21a-277(c) – Drug Factory
Possession of Drug Paraphernalia in a Drug Factory - Generally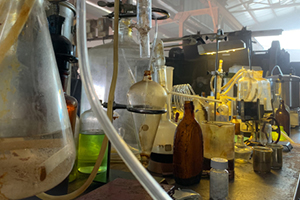 When clients imagine a drug factory, they probably think of something out of the show "Breaking Bad." Under Connecticut law, any place, building room, or location used to manufacture, distribute, store, or to keep illegal drugs can be a drug factory. A few years ago, the legislature reduced the penalties for the possession of small qualities of narcotics and marijuana. The police responded by more liberally charging suspects with Connecticut General Statutes § 21a-277(c) operation of a drug factory.
Regrettably in Connecticut if you have a scale, some plastic bags, and a small amount of marijuana in your backpack you could be charged with the operation of a drug factory. It is a massive difference because it takes a minor misdemeanor offense and transforms it into a more severe felony-level offense for which you can serve up to two years in jail.
Elements of the Crime Which Must be Established by The Prosecutor
To be convicted of operation of a drug factory in violation of Connecticut General Statutes § 21a-277(c), the state's attorney has to prove the following elements of the crime:
The accused knowingly possessed drug paraphernalia in a drug factory setting;
For the mixing, compounding or otherwise preparing any controlled substance.
Examples
A man makes a sale of a small bag of marijuana to a confidential informant. On the basis of that sale, the police apply for a search warrant for the man's home. When the police execute the warrant, they find 2 ounces of marijuana, a scale, some plastic bags, and $465 in cash. The police charged the man with possession of less than 4 ounces of marijuana, sale of a controlled substance and operation of a drug factory in violation of C.G.S. § 21a-277(c).
A man is observed by police officers making an exchange of drugs for cash on a street corner in Stamford, Connecticut. Officers detain the man and discover that he has several bags of marijuana and cash on his person. The police officers apply for a warrant to search the man's home for additional evidence of drugs or drug sales. When the police search the man's house, they find a bag of 3 ounces of marijuana, packaging materials, a digital scale, and $1,170 in cash. The man is charged with the operation of a drug factory in violation of C.G.S. § 21a-277(c) because the man had a scale and plastic bags in his home, which could have been used to package marijuana for street sale.
Related Offenses
Connecticut General Statutes § 21a-279(a) - Illegal Possession of Narcotics
Connecticut General Statutes § 21a-279a - Simple Possession of Marijuana
Connecticut General Statutes § 21a-277(a) - Possession with Intent to Sell
Defenses to Drug Factory Allegations
A skilled Connecticut drug defense attorney can utilize a variety of defenses to defend your drug factory charges.
Lack of Possession
Often, police make arrests for drug factory allegations when a group of people has access to the same area. This statute requires the state to prove intent as the statute requires that the state prove the accused "knowingly possessed" the paraphernalia. In many situations, people may have borrowed a car from someone else that contained drug paraphernalia and packaging materials in the trunk. If the suspect has no knowledge of the existence of the drug factory materials, then they can't be convicted of the operation of a drug factory.
The Objects were not "Paraphernalia.
Many objects have multiple uses. A digital scale and baggies can be used to bake cookies. The prosecution has the burden to prove that the paraphernalia that the suspect was arrested with were used to manufacture, package, or store a controlled substance in order to substantiate a drug factory allegation.
Illegal Search and Seizure
All too often, police make drug arrests, and in their excitement, they ignore basic principles of constitutional law and violate the rights of the suspects. The Fourth Amendment of the Constitution protects us against unlawful searches and seizures. In many cases, police use intimidation tactics to coerce suspects to consent to searches. Never agree to a search of your home, car, office, bags, or person unless the police have a search warrant. When police discover drugs or packaging materials without following constitutional requirements, this allows defense lawyers to file motions to suppress any evidence found. If the evidence is suppressed, then the charges are usually dismissed.
Diversionary Programs
Someone who is charged with this offense is not eligible for the drug education and community service program. However, if they have no prior criminal record, they could apply for the accelerated rehabilitation program. The AR program would result in a dismissal of all the charges upon successful completion of the requirements of the program.
Penalties
C.G.S. § 21a-277(c) is an unclassified felony for which you can face up to two years in jail and a fine of up to $1,000, probation and the requirement to produce a DNA sample to the state.
Call Drug Factory Lawyer Allan F. Friedman!
Attorney Allan F. Friedman firmly believes that everyone is presumed innocent and has the right to a fair trial and effective defense.
This is why we are determined to provide all our clients with five-star customer service and exceptional representation, even when faced with the most stressful and trying circumstances. If you have been arrested for the operation of a drug factory, contact our Connecticut criminal law firm today at (203) 357-5555, or you can contact us online for a prompt response.