Stamford DUI Lawyer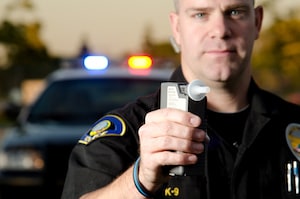 If you were arrested for DUI in Stamford, then contact Stamford DUI attorney Allan F. Friedman to protect your drivers' license and assure that you get the best possible resolution for your case. DUI cases are taken very seriously by the prosecutors, and a conviction for DUI can have adverse effects on your reputation, ability to seek employment, and in some cases, you could even be exposed to jail time. If your license is suspended for a DUI it can affect your job, and it can cause your insurance rates to skyrocket. Because of the significant consequences, you should handle a DUI arrest seriously. Immediately contact a Stamford DUI lawyer to arrange your free consultation and DUI defense action plan today!
Stamford DUI Arrests
If you were arrested for DUI in Stamford, then your case will are adjudicated at the Stamford G.A. # 1 Courthouse. The courthouse is located at 123 Hoyt Street, Stamford, CT 06905. The Stamford Police Department is right around the corner from the court on Bedford Street.
The Stamford police makes DUI enforcement a top priority. Every year the City of Stamford receives federal grants to run DUI checkpoints and targeted DUI enforcement units. Ask any top Stamford DUI lawyer, and they will tell you that patrol division district 2 makes more DUI arrests than any other division in Stamford every single year. District 2 is the zone of Stamford that encompasses most of its restaurants, bars, nightclubs, and theaters. The popular bars of downtown Stamford are a major attraction on the weekends for people from throughout Fairfield County and surrounding areas.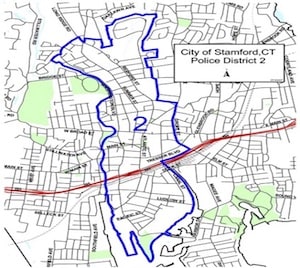 The Stamford police are familiar with the popular drinking destinations, and therefore they are on the lookout in these locations for distracted drivers. District 2 is a very small section of the City of Stamford, but it has 90% of the nightlife, and therefore, it is easy for the Stamford police to target drunk drivers. It is very a very common sight to see the Stamford police making traffic stops of suspected drunk drivers in the downtown area around the time that the bars are closing.
Another common area for DUI stings in Stamford are the many social clubs such as the Eagles Club, VFW, Elks Club, and the like. Also, some of the strip clubs in town are targets of police attention. Much like the bars in the downtown area, these other watering holes often get enhanced traffic enforcement in the evening hours on the weekend.
DUI Arrests Can Involve Alcohol - Drugs or Both
DUI arrests in Connecticut are charged as a violation of one of the subsections of Connecticut General Statutes Section 14-227a. Most people assume that all DUI arrests only involve the consumption of alcohol. In practice, the majority of DUI arrests involve motorists who have consumed alcohol. However, you can be arrested for operating under the influence of prescription medication, drugs, and medical marijuana also. Any substance that impairs your ability to operate a motor vehicle can result in a charge for operation while under the influence. Since medical marijuana has proliferated in our state, there has been more arrests for operation under the influence of medical marijuana. Many clients are under the mistaken assumption that just because you have a medical marijuana card that you are able to drive a car under the influence with impunity and just show your medical marijuana card. A medical marijuana card authorizes you to possess marijuana legally; it does not permit you to operate a motor vehicle while you are under the influence of THC.
DUI Traffic Stops
A DUI investigation is supposed to commence when the police officer has reasonable suspicion to pull you over. This is an essential first element required under our Constitution because we have the right to move around freely without police interference. The police are not allowed to pull you over simply because they have a suspicion or hunch that you may be intoxicated. The only exception is police DUI checkpoints, which are highly regulated and require advance notice and publication.
Typical factors that can lead an officer to have reasonable suspicion to pull you over include any traffic infractions such as failure to stay in lane or speeding, equipment violations such as a tail light being out or window tints, complaints from third parties of erratic operation and responding to motor vehicle accidents. After the initial stop is made, the officer begins to look for any signs of intoxication that can help establish probable cause that you were impaired by alcohol or drugs.
One of the most common first clues that a police officer is trained to look for is how you react to their questions. When the officer is asks you for your documents, they are trained to look for telltale signs of lack of coordination and confusion. While you are retrieving your documentation, the officer usually will ask you a succession of questions intended to distract you and throw off your concentration. One of the classic questions that police will ask if "have you been drinking?" Everyone needs to understand that the best answer to that question is to simply not answer the question. Many of our clients try to answer that question by saying, "I only had a few beers," but that is an admission that helps the state build its case against you.
Another common sign that the officer will be looking for is any odor or smell of alcohol or marijuana. They always exaggerate and say that they detected the "strong odor of alcohol," no matter how much alcohol they smelled. I imagine that some clients used mouth wash or cologne, and the police later said that they then detected the strong odor of alcohol. The police officer will also shine a flashlight in your face and see if you have bloodshot eyes.
The purpose of all these efforts is so that the police officer can make a finding that there is probable cause that you were driving while impaired. Some of the factors that could lead to a finding of probable cause for a DUI arrest could be the observation of erratic operation, your admission of the consumption of alcohol, the smell of the odor of alcohol on your breath of marijuana in your vehicle, confusion and lack of coordination and slurring of speech. Once the police officer has established probable cause, then under our implied consent laws, the officer has the right to detain you to administer a chemical test. In most cases, the next step is that the officer is going to ask you to perform a field sobriety test.
Standardized Sobriety Tests
If the officer has probable cause to suspect that you were operating under the influence they are going to try and bolster their case by asking you to participate in field sobriety tests. These are standardized tests that every police officer is trained to do. They are subjectively scored, and there is virtually no way to get a passing score even if you are 100% sober. You are required to step out of your car when the officer requests you to do so. However, you should never consent to participate in field sobriety tests. In the age of body cams, all of your efforts at trying to pass the field sobriety test are being recorded on video and used against you at the time of trial.
Since there is no way that you can pass this test and since it is not going to help get you out of the situation, simply refuse (in a polite manner) to participate in any field sobriety test. Whether you refused to take the field sobriety test or attempted to take it and failed - afterward the officer is going to place you under arrest for DUI.
Chemical Testing
Once the officer has found the probable cause to make an arrest, then under our implied consent law Connecticut General Statutes § 14-227b, you are deemed to have consented to a chemical test of your blood alcohol content. While the statute provides for several testing methods in most cases, the Stamford police will select a breath test. Since Connecticut went to an all offender interlock program back in 2016, the sanction for refusing a chemical test has significantly reduced. The police must follow the statutory requirements when administering a chemical test, which includes allowing you to speak with an attorney before deciding whether or not to take a chemical test.
Often when you are stuck in the Stamford police department, it is difficult to reach an attorney, and many clients don't know what to do. The police are not allowed to intimidate you into taking the test, and they have to allow you to make a voluntary decision to decide whether or not to take the test. We have seen many situations where clients with medical conditions were unable to blow hard enough into the breathalyzer machine, and the Stamford police have deemed that to be a "refusal." Since there are administrative consequences of additional periods to have an interlock device installed in your vehicle for refusal and an administrative per se license suspension, we often will appeal these cases to the DMV.
DMV Per Se License Suspension
After a Stamford DUI arrest, our first step is to take action to protect your drivers' license. If you failed a chemical test or refused a chemical test, the DMV is going to be initiating an administrative per se license suspension of your license. Since the license suspension will go into effect within 30 days of your arrest, it is vital to take immediate action to file an appeal. You should expect to receive your suspension notice within about 7 to 10 days after your arrest and will only have a few days in which to file for an appeal of your license suspension. Since you have only a short period to act, it is imperative that you promptly retain the services of a skilled Stamford DUI attorney to review all the facts of your case to ascertain if there are valid grounds upon which to file an appeal.
Defending DUI Cases
May clients assume that just because they have been arrested for a DUI that means that they must be guilty. This is not accurate, and in fact, many first time DUI offenders usually have their charges dismissed through the use of a diversionary program such as the alcohol education program.
DUI cases are unique in criminal law in that the investigating officer is usually the complaining witness, the expert witness, and often the chief witness against you. Accordingly, a common defense tactic in DUI defense is to carefully review the police work and scrutinize the officer's investigative work for errors, omissions, and mistakes. Top Stamford DUI lawyers will go over every single word in a police report looking for any oversight that can provide a basis to file a motion to suppress evidence or get the case dismissed. The DUI law provides strict guidelines on how the police are supposed to conduct chemical testing, and any oversights committed can be grounds to have the chemical test results suppressed.
Often police officers lack probable cause to pull you over in the first place. While they may write in their police report, one thing often the logs from police incident logs at the police station indicate that they were pulling you over for an entirely different reason. When the police did not have reasonable suspicion to make a traffic stop in the first place, it is sometimes possible to suppress all the evidence obtained.
Many DUI cases hinge upon breath test results. Sadly, most local police departments, including the Stamford police, do not invest the adequate resources to maintain, calibrate, and test the breathalyzer equipment properly. The technology behind breathalyzer machines is highly suspect and subject to inaccurate readings. A skilled DUI defense attorney serving Stamford can use these issues to create a reasonable doubt that you were operating under the influence.
An Aggressive Advocate Who Provide Personalized Attention
Attorney Friedman will exhaust every possible alternative to get you the best possible outcome in your case. Attorney Friedman has successfully represented hundreds of clients accused of DUI throughout the State of Connecticut. Attorney Friedman will use his over 30 years of experience as a Stamford DUI lawyer to fight for your rights and obtain the best possible outcome. Our office will give you the top-notch personalized customer service that you have come to expect. Take a moment to look over our numerous 5-star client reviews from dozens of satisfied customers.
Speak with an Experienced Stamford DUI Attorney Today!
If you have been arrested with DUI you should consult with a DUI attorney serving Stamford as soon as possible. With over 30 years of experience defending criminal allegations in Stamford and throughout Connecticut, Attorney Allan F. Friedman can find the optimal approach to achieve a favorable resolution of your DUI case. Our objective is to have the charges dismissed or thrown out, if possible, or significantly reduce the charges. We work on a flat-fee basis, and our rates are very reasonable. Call Attorney Friedman at (203) 357-5555 to schedule your free initial consultation and case evaluation - we are available 24/7 - 365 days a year. Or you can contact us online for a prompt response.
Our office is conveniently located one block from the Stamford Court house.
Stamford DUI ResourcesAdditional Stamford Points of Interest
Stamford Crowne Plaza Hotel
We are open Monday through Sunday 24 Hours a Day