Norwalk - Defending Your Domestic Violence Arrest
Defending Your Domestic Violence Arrest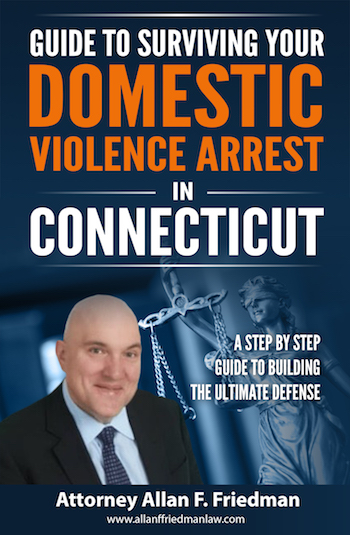 The good news about domestic violence cases is that generally most of the people arrested for these offenses are first time offenders who have no prior involvement with the criminal justice system. Top Norwalk domestic violence defense lawyers would agree that this makes resolving these cases relatively easy. The bad news is that the domestic violence Court process works very slowly. The system is designed to focus heavily on treatment and educational programs and providing extensive periods of "cooling off time" in which to monitor the situation to make sure that the parties are under control and not going to escalate the situation. Of course, there are also more complicated cases involving offenders who have extensive histories of domestic violence and who in some cases have repeatedly violated the terms of criminal orders of protection. These complex cases will require alternative methods of resolution. Every single criminal case is fact dependent upon the specific circumstances of the particular case and it is essential to review your individual case with an experienced Norwalk domestic violence defense attorney to get sound legal advice. The general comments about defending domestic violence cases I am going to discuss here are for informational purposes only and do not take the place of having a qualified Norwalk criminal defense lawyer give you legal advice based upon the facts of your individual case.
I. Getting the State to Agree to Drop or "Nolle" Your Charges
In some cases the case itself is really weak and with some good lawyering your defense counsel can convince the State to drop or "nolle" the charges. Often in these situations, where both sides of a dispute are represented by counsel they can work out a deal with the State to press for mutual "nolles" which lead to the charges being dismissed against both sides. Of course, these situations are very rare and usually in order to get your domestic violence case dropped or "nolled" it is going to require a little homework on your behalf.
In many cases, most notably those which do not involve allegations of serious injuries or violations of criminal orders of protection the State's Attorney may be willing (with the recommendation and suggestion of family relations) to drop or "nolle" the charges against you upon completion of the Court ordered course of treatment which was ordered as a condition of your release. It should be noted that usually these kind of dispositions will not be offered to you if the victim opposes them or if the victim seeks prosecution. Although in some cases the State's Attorney may elect to "nolle" the case even over the objection of the victim simply because the case is so minor that it really does not warrant criminal prosecution. Some examples of these treatment programs include anger management, parenting skills and substance abuse treatment. In many domestic violence cases during the arraignment the Court may order treatment through AIC as a condition of release upon the recommendation of family relations. Although these treatment programs can often be a huge pain in the neck and may prove to be very difficult to attend due to work obligations one benefit of attending them is that in the less serious domestic violence cases completing the course of treatment or therapy recommended may result in a recommendation that the State's Attorney drop or "nolle" the charges against you. Of course for those who have retained a private defense attorney and filed a motion to substitute private therapy for the Court provided AIC programs the end result would be the same with a letter or report from your private therapist attesting that you have completed the recommended course of treatment in the areas in which family services has recommended. "Nolle" is a Latin term which means that the State's Attorney has elected not to prosecute your case. What this means in effect is that your case will remain dormant for a period of 13 months at which time it will automatically be dismissed. The advantages are that any criminal orders of protection issued in the case automatically are terminated and you do not have to come to Court anymore. The disadvantages are that the State's Attorney can decide at any time during that 13 month period to commence prosecuting your case again (although this is a very rare occurrence) and also that the arrest will remain on your criminal arrest record for the full 13 months until the case is actually dismissed. In addition, if details of your arrest were posted online by any news organization or the "patch" you will be unable to hire a lawyer to attempt to have those articles removed until the full 13 months has passed and you have obtained a dismissal of the charges.
II. Participation in a Diversionary Program
Many first time offenders are eligible for a diversionary program such as the family violence education program or the accelerated rehabilitation program which can lead to a dismissal of the charges against you and no criminal record. While most top Norwalk domestic violence defense attorneys will advise you to always use the family violence education program as a last resort as it has several disadvantages in some cases it is the best solution to resolve your case while maintaining a clean criminal record which is very important. Some of the disadvantages of resorting to the use of the family violence education program are that:
You can only use it once in your lifetime.
It can only be used for family violence crimes.
Your criminal orders of protection will remain in effect during the entire period of time you remain in the program which will last up to two years.
In many situations a diligent and effective attorney can convince the State to drop or "nolle" the charges without having to use the family violence education program.
The take away is that you really want to exhaust every possible avenue to get your charges dropped or "nolled" and use the family violence education program as your last resort. Generally the family violence education program covers any family violence crime and the program itself consists of 9 class room sessions and up to two years of probation. In some severe cases involving very serious allegations of violence or multiple violations of criminal orders of protection the Court may only agree to grant the program conditioned on the agreement to participate in either the so called "explore" 26 week or "evolve" 52 week enhanced programs. Obviously, these more intense and time consuming programs are reserved for cases involving very serious and violent allegations in which the accused is in need or very intensive group based intervention to deal with conflict management and behavioral management skills.
Many crimes that wind up being prosecuted on the so called "D/V" "domestic violence" docket are not family violence crimes within the meaning of the statute and thus are not eligible to be dismissed using the family violence education program which only covers family violence crimes. If the State is unwilling to drop or "nolle" your case and you are a first time offender you may be eligible for the accelerated rehabilitation program which is a diversionary program which also leads to the dismissal of charges. In some situations the State may require you to use or "burn" both of these programs on one case if you have been charged with a combination of family violence crimes and non-family violence crimes. The reason for this is because the accelerated rehabilitation program can't be used for family violence crimes. Obviously, ideally you would never want to "burn" both of these programs on one case and the preferred solution would be to have your Norwalk domestic violence defense attorney negotiate with the State's Attorney to allow you to perhaps use one program and then drop or "nolle" the balance or remainder of your charges upon the successful completion of the program. The accelerated rehabilitation program is less structured than the family violence education program in that there is no formal class room component however, the Court has the discretion to add on special conditions such as mental health evaluation and treatment and substance abuse evaluation and treatment among others to give the program more structure to suit the requirements of an individual case. The program itself can last up to two years at the discretion of the Court.
III. Conditional Pleas
Some Courts and State's Attorneys are willing to accept so called conditional pleas. These kind of dispositions are reserved for more serious domestic violence allegations or repeat offenders who are not eligible for a diversionary program. In a conditional plea you would enter a plea of "guilty" to some of the charges against you and the sentencing date would be postponed for some period of time, up to a year, while you engage in a treatment program typically the explore (26 week) or the evolve (52 week) program. The conditions of your open plea would specify that if you stayed out of trouble and did not pick up any new arrests during the time until your sentencing date and successfully completed the requirements of the program then your previously entered guilty plea would be vacated and either the charges would be dropped altogether or you would then enter a plea to a minor offense with no jail time. Of course the danger with conditional pleas if you pick up a new case while your conditional plea is pending or if you do not successfully complete the treatment program required them your original plea would remain in effect and the Court would be free to sentence you for that crime on the sentencing date.
Conditional pleas are not commonly utilized. They are not for everyone. However, if you are facing a jail offer from the State and the facts of your case are stacked against you and it does not look like a trial would be a good option then a conditional plea may be your best way of avoiding jail and a criminal conviction. Taking the path of a conditional plea is a serious risk and you should only consider accepting such an offer after careful consultation and consideration with your Norwalk domestic violence defense attorney.
IV. Plea Bargain / Negotiation
For those clients who are not "program eligible" due to prior use or programs or prior criminal convictions, often the best solution to their case is through a plea bargain. This involves negotiating with the State to drop the more serious charges against you or perhaps substitute a less serious charge to which you would plead guilty in exchange for an offer of no jail time. In some cases your Norwalk criminal defense attorney can convince the State to lower the charges to non-criminal charges such as creating a public disturbance which would leave you with no criminal record and no exposure to jail time. If you are not program eligible then before electing to take your case to a jury trial (which should always be considered as a last resort) you should have your Norwalk domestic violence criminal defense lawyer explore every possible option to reach an acceptable plea bargain which you can live with. In our criminal justice system almost 98% of criminal cases are resolved prior to trial. Plea bargaining is a vital part of the criminal justice system in which those charged with crimes can avoid the uncertainly of the outcome (and expense) of a jury trial and possible jail exposure and instead come to a favorable resolution which allows you some control over the outcome. The decision to accept a plea bargain offer from the State should only be considered based upon all the facts of your case, including the strength of the State's evidence against you and a review of the possible defenses which you could raise at trial. Obviously, this kind of decision should only be made after seeking the advice of an experienced New Canaan domestic violence defense attorney.
V. Trial
As mentioned in the previous section more than 98% of criminal cases in Connecticut are disposed of without the need of a trial. Although the Constitution guarantees everyone accused of a crime the right to have a jury trial and to have the State prove each and every element of the crimes charged beyond a reasonable doubt in practice very few defendants actually take their cases to trial. There are several reasons for this. First given the multitude of diversionary programs available for first time offenders it never makes sense for a first time offender to go to trial if there is a diversionary program available which will lead to the dismissal of the charges against the client. Secondly, going to trial is costly in terms of legal fees and it is also very taxing emotionally. There is a lot of uncertainty that goes into a trial. Even if you feel that the State does not have enough evidence to convict you when you put your fate in the hands of a jury to decide your fate you can never be 100% certain on the outcome. Third, there is what is known as the "trial tax" that defendants who exercise their right to have a jury trial pay at sentencing if they are convicted. Invariably, if you do take your case to trial and are convicted the sentence which the Court imposes will be more severe than any plea bargain offer which the State would have offered you by way of a plea bargain. It is really unfair that there is such thing as a "trial tax" as those individuals who are charged with a crime have a Constitutional right to a trial by jury. It is manifestly unfair that those defendants who chose to elect to exercise their Constitutional right to have a jury trial would be penalized in the form of suffering a more severe penalty than those defendants who simply elect to accept a plea bargain and plead guilty. The reality is that this "trial tax" and the pressure that the Courts put upon defendants to accept plea offers in a timely fashion before they are withdrawn is what keeps our entire criminal justice system from breaking down. If everyone who was arrested insisted on a jury trial the Court docket would become hopelessly clogged and backlogged. There are not enough prosecutorial and judicial resources to take a significant proportion of the criminal cases to trial. This is why in our present system of justice such a great emphasis is placed on putting pressure on accused defendants to take plea offers and resolve their cases without going to trial.
With all this said, if you are not guilty, if you have been wrongfully accused of a crime that you did not commit then you should not plead guilty. If you are a victim of false accusations you should get together with an experienced Norwalk domestic violence defense lawyer to carefully review the facts that the State claims it has against you, the potential defenses to the allegations and the costs and risk of taking your case to trial. One thing I would never want to see as a Norwalk criminal defense attorney is a client who is innocent pleading guilty to a crime that they did not commit because they are afraid to face a trial.
Conclusion
Domestic violence cases do take longer than most criminal cases to resolve. However, in most cases they lend themselves to very favorable resolutions. The best advice I can give you if you are facing a domestic violence arrest is to consult with an experienced Norwalk domestic violence defense attorney and go over all the options. Every case is different and depends upon the facts of the specific case so to get the best possible legal advice you should meet with an attorney for a free consultation to review all of the details of your individual case.
Why Hire the Law Offices of Allan F. Friedman?
Domestic violence arrests don't happen during business hours so we are Available 24/7
Over 30 years of experience in criminal defense
We will provide personalized attention and get you results
Free initial consultation
Reasonable rates / payment plans
Contact a Norwalk Domestic Violence Defense Attorney Today!
If you have been charged with a domestic violence crime in Fairfield County, Norwalk Attorney Allan F. Friedman will take the time to answer all of your questions and give you sound legal advice. Attorney Friedman will work hard to put together a winning defense strategy to defend you. He provides each of his clients with personal attention and clear communication, and his rates are reasonable and he offers payment plans. Norwalk domestic violence defense attorney Allan F. Friedman also represents people in Darien, Stamford, Greenwich, Weston, Bridgeport, Fairfield, Westport, Wilton, Cos Cob, New Canaan, and Easton among other Connecticut cities. Our office is conveniently located right off exit 13 on Richards Avenue in Norwalk. We also have an office located in downtown Stamford one block from the Stamford Courthouse at 1100 Summer St. Call us at (203) 847-2000 or contact us via our online form to schedule an appointment.