Connecticut General Statutes § 53a-182: Disorderly Conduct
Definition of Disorderly Conduct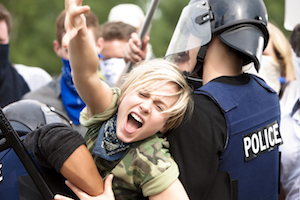 "Disorderly conduct" is a term that many people may be familiar with. Still, most people may not fully understand the legal definition of disorderly conduct and know when the police can charge you with this crime. Disorderly conduct is a so-called "catch-all" statute in Connecticut. It can be applied to a wide range of behaviors ranging from a fight in a bar to a domestic violence dispute. Police can arrest people for a violation of this statute in situations ranging from very heated verbal disagreements to mild physical confrontations.
In many cases, the police will charge defendants with disorderly conduct and other more serious crimes such as risk of injury to a minor or assault. A lot of people wonder "should I get a lawyer for a disorderly conduct case?" If you or a family member or loved one has been charged with disorderly conduct, we encourage you to retain our office to defend you aggressively and protect your rights.
The following is an explanation of Connecticut disorderly conduct laws, and the impact a conviction for Connecticut General Statutes § 53a-182 could have upon your future:
Elements of the Crime Which Must be Proven by The State
To be found guilty of disorderly conduct under General Statutes § 53a-182 the State of Connecticut has the burden to prove, beyond a reasonable doubt, that the defendant while acting with an intent to cause "inconvenience, annoyance or alarm" or recklessly creating a risk of the same, engaged in one of the following acts.
The acts include:
Engaging in fighting;
Engages in violent or threatening behavior;
By engaging in offensive or disorderly acts, you annoy or interfere with another person;
You make unreasonable noise;
You disturb a lawful assembly or gathering of persons;
You obstruct the flow of traffic or pedestrians (blocking traffic);
Ignore lawful orders of the police to disburse from a congregation of other persons in a public place;
You are a peeping tom.
As we can see, several subsections of Connecticut General Statutes §53a-182 are very vague. It is often difficult to draw a line between what would cause "annoyance or alarm" to someone and the constitutionally protected free speech rights of the defendant.
This statute often is applied in a very selective and often discriminatory manner. Usually, your "attitude" or how the police officer feels about you will make the difference in whether or not you are issued a summons for disorderly conduct. The only exception is in domestic violence matters where the legislature has mandated that the police are required to make an arrest in every case where they find probable cause that a crime has been committed. For this reason, many disorderly conduct arrests in Connecticut are related to domestic violence arrests.
Examples
A husband and wife have a heated argument. The argument gets very loud, and they start to throw objects around their apartment. A neighbor calls the police because the noise is bothering them. Either the husband, wife, or both could be arrested for disorderly conduct for creating noise in reckless disregard for the peace of the neighbor who was disturbed.
A husband and wife have a heated argument in a public place. The wife slaps the husband in the face. The police are called to investigate.
The wife can be arrested for disorderly conduct for intentionally slapping her husband. It should be noted that she could also be charged with the more serious crime of Assault 3rd or Breach of peace 2nd.
Related Offenses
Connecticut General Statutes § 53a-61 – Assault 3rd
Connecticut General Statutes § 53a-181 – Breach of the Peace
Connecticut General Statutes § 53a-21 – Risk of Injury to a Minor
Defenses to Disorderly Conduct
For first-time disorderly conduct offenders, often a top Connecticut criminal defense attorney can work out a favorable resolution of the charges and get the case nolled or dropped if you make a charitable contribution or perform some community service hours. In some cases, your lawyer can get the state's attorney to substitute this misdemeanor charge down to the non-criminal infraction of creating a public disturbance. The decision on whether to plead guilty to a noncriminal infraction of creating a public disturbance should always be discussed with a Connecticut criminal defense lawyer. Of course, for first-time offenders, there is a wide range of diversionary programs that would lead to a dismissal of the case.
When defending a disorderly conduct case, the best approach is to review the specific facts of your case carefully. Since this offense requires a mental element of an intentional or reckless act often, it is difficult for the state to prove that the alleged actions were committed intentionally or recklessly. While the intent may be inferred from the circumstances of the particular case, a skilled criminal defense lawyer can raise defenses to negate this essential element of the crime. Also, self-defense is a common defense to disorderly conduct allegations.
Receiving a Misdemeanor Summons is an Arrest
The police have the option when arresting you for Connecticut General Statutes § 53a-182 to either take you down to the police station for booking or issue you a misdemeanor summons and give you a court hearing date. Many clients feel that because the police did not "book them" and take them in a police car or even put them in handcuffs, this means that it was not "an arrest." This is not accurate. If you have received a misdemeanor summons for disorderly conduct, it will go on your FBI arrest history and is an official arrest. An arrest for disorderly conduct can have significant effects on your future, so it is essential to hire a top Connecticut criminal defense attorney to fight these allegations zealously.
Penalties
Connecticut General Statutes § 53a-182 is a class C misdemeanor which a conviction after trial or plea of guilty could face up to 90 days in jail and a fine of $500.
Call Disorderly Conduct Lawyer Allan F. Friedman!
For more information on disorderly conduct and to schedule your free initial consultation, contact Stamford criminal lawyer Allan F. Friedman at the Law Offices of Allan F. Friedman located at 1100 Summer St #306, Stamford, CT 06905. Attorney Friedman can be reached 24/7 at (203) 357-5555, or you can contact us online for a prompt response.