Connecticut General Statutes § 29-38 – Weapons in Vehicles
C.G.S. § 29-38 – Dangerous Weapons in a Motor Vehicle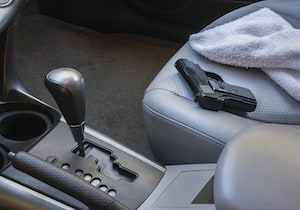 We all know that the Second Amendment protects our right to keep and bear arms. The Supreme Court has determined that the state can place reasonable restrictions on our right to bear arms. Connecticut law has many restrictions on firearms and weapons, and one of them is reflected in C.G.S. § 29-38, which makes it illegal to carry certain weapons in a motor vehicle. Many of these weapons would be legal to possess in your home, but C.G.S. § 29-38 makes it illegal to have these weapons in a motor vehicle. Also, C.G.S. § 29-38 categorizes many items as weapons that people would not expect are illegal to have in a vehicle. Since this crime is a felony, its seriousness often catches some clients by surprise.
Elements of the Crime Which Must be Proven by The State
For the state to prove you are guilty of a violation of C.G.S. § 29-38, the state's attorney must be able to establish the following elements of this offense:
The defendant had a weapon in a vehicle owned, operated or occupied by him or her;
The defendant knew that the weapon was in the vehicle;
The defendant did not have a permit to possess the weapon(s);
The list of weapons that are expressly prohibited by the statute include:

Handguns of any kind
Machine guns
Police batons or nightsticks
BB or pellet guns of any kind
Machete, swords, martial arts weapon
Any switchblade or automatic opening knife with a blade over 1.5"
Any knife with a blade over 4"

Any other dangerous weapon or instrument.
Exclusions
The statute does not apply to police officers; a security guard who has a nightstick; someone who has a martial arts weapon who is enrolled in a martial arts school.
BB guns can be transported in a vehicle if they are unloaded and stored in the trunk or a locked container other than the center console or glove box.
Knives with blades greater than 4" can be legally transported in many circumstances that are listed as exclusions in the statute. You should consult the statute before you attempt to transport such a knife in a vehicle or speak with a Connecticut weapons law lawyer.
Examples
A man is driving around with a nightstick in the back of his car. He is pulled over for speeding, and the police officer sees the nightstick in the back on the car. The man can be convicted for a violation of possession of a dangerous weapon in a motor vehicle in violation of C.G.S. § 29-38.
The defendant is driving when another car cuts him off. The driver of the other driver begins to yell profane remarks and gets out of his car in an apparent example of road rage. The defendant pulls out a bat from his car and brandishes it menacingly. Since the baseball bat was used to threaten the other driver, it would be considered a dangerous weapon and not a sporting good in this example. The defendant could be charged with a violation of possession of a dangerous weapon in a motor vehicle in violation of C.G.S. § 29-38.
A man is picked up by his friend in his car to go to a party. On the way, the police pull the car over and detect the odor of marijuana and search the car. Inside the car, they find a BB gun in the center console. Both occupants of the vehicle could be charged with possession of a dangerous weapon in a motor vehicle in violation of C.G.S. § 29-38 because the weapon was found in an area accessible by either of them.
Related Offenses
Connecticut General Statutes § 53a-62 – Threatening in the 2nd Degree
Connecticut General Statutes § 53-206- Carrying a Dangerous Weapon
Connecticut General Statutes § 29-35 – Carrying a Pistol without a Permit
Defenses to Connecticut General Statutes C.G.S. § 29-38 – Possession of a Dangerous Weapon in a Motor Vehicle
The principal objective for lawyers defending possession of weapon cases is negating the element of intent. This is particularly the case in situations where there are multiple occupants in a motor vehicle, and no one has claimed ownership of the weapon. Frequently, the police will charge everyone who was inside the car with possession of a dangerous weapon in a motor vehicle in violation of C.G.S. § 29-38.
Constructive Possession
The method the state uses to establish criminal liability for all occupants in the vehicle is with the doctrine of "constructive possession." Under constructive possession, the state must show that an occupant in the vehicle, while not physically possessing the weapon, had the intention and the ability to exercise dominion over the weapon. The issue of whether or not a particular occupant of a vehicle was in a position to exercise dominion or control over the weapon is a fact-driven analysis. We need to look at many factors such as where the weapon was located within the vehicle, if there were any fingerprints on the weapon, what was the occupants' connection to the vehicle, etc.? Often, issues of constructive possession are litigated at trial.
Statutory Presumption
While this statue does require that you must knowingly possess the weapon in the vehicle, it is not like other crimes that require the state to prove the metal element of intent. The reason why is that the legislature included a presumption that the mere presence of a weapon in the motor vehicle is prima facie evidence of a violation of C.G.S. § 29-38. This unique combination of legal concepts makes the defense of allegations for violations of C.G.S. § 29-38 often very challenging. While the presence of the weapon in the vehicle does establish a presumption under the law of a violation of the statute, the defense is able to raise any defenses that would negate the intent of the accused to possess the weapon. Lack of knowledge of the presence of the weapon is a defense to the crime.
Diversionary Programs
Those defendants who lack any criminal record may be eligible for the accelerated rehabilitation program. The AR program is a diversionary program that, upon successful completion, can result in the dismissal of the charges. A top Connecticut criminal defense attorney would use the AR program as a last resort for any client who has no criminal record after exhausting all other possible alternatives to get the charges dismissed.
Penalties
A conviction for Connecticut General Statutes § 29-38 – possession of weapons in a vehicle is a Class D felony punishable by up to 5 years in jail and a fine of up to $5,000. You have to take this offense seriously because it is a felony. It does not seem so serious to be driving in a vehicle with a BB gun or a knife, but it is a serious offense that can have lasting consequences if you are convicted.
Criminal Defense for Weapon Crimes and Road Rage Cases
If you or a family member has been charged with possession of weapons in a vehicle in violation of C.G.S. § 29-38, it is crucial that you speak with an experienced Stamford criminal defense lawyer right away. Allan F. Friedman has successfully defended dozens of weapons in a vehicle case over more than 30 years. You need an aggressive and tireless advocate to search for every possible alternative to avoid these harsh penalties.
For more information about defending weapon in a motor vehicle charges in violation of C.G.S. § 29-38, and to arrange a free, no-obligation, initial consultation, contact Stamford criminal lawyer Allan F. Friedman at The Law Offices of Allan F. Friedman located at 1100 Summer St #306, Stamford, CT 06905. Mr. Friedman can be reached 24/7 at (203) 357-5555, or you can contact us online for a prompt response.
Our office is conveniently located one block from the Stamford Courthouse.