C.G.S. § 53a-82 – Prostitution
Overview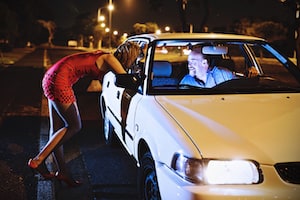 C.G.S. § 53a-82 is the statutory citation for Connecticut's prostitution statute. Prostitution is a misdemeanor crime in Connecticut and is illegal for both the prostitute and the john. Prostitution is commonly known as the "world's oldest profession." Many people feel that women should be allowed to earn money how they want, and there is a growing movement to attempt to legalize prostitution. However, law enforcement sees prostitution as a pathway to the exploitation and human trafficking of women. Prostitution is an easy target for local police departments to make some fast arrests and get some publicity in the local newspapers. It seems that prostitutes are an easy mark for law enforcement whenever they are ready to make some arrests; they set up another sting operation.
Elements of the Crime Which Must be Proven by The Prosecution
This statute only is directed at prostitutes. There is a separate statute that addresses the prosecution of john's who patronize them.
To prove a violation of C.G.S. § 53a-82 the state's attorney must prove the following elements of the crime beyond a reasonable doubt:
The defendant, who is 16 years of age or older, offers to engage in sexual conduct with someone else;
For a fee.
Examples
A woman places a listing on the internet in which she offers erotic body rubs. She exchanges text messages with a man and agrees to engage in sexual relations with him in exchange for a fee of $200. She tells the man who is an undercover police officer, the location of the hotel where she is staying. When the undercover officer arrives, the woman is placed under arrest for prostitution. The woman could be charged with prostitution because she agreed to engage in sexual relations for a fee.
A woman is working at a massage parlor when an undercover police officer comes in for a massage. The woman offers to perform sexual acts on the man in exchange for cash. The woman could be charged with prostitution even though she had no sexual contact with the man because she offered to engage in sexual conduct with the man for a fee.
Related Offenses
Connecticut General Statutes § 53a-192a – Trafficking in Persons
Connecticut General Statutes § 53a-83 – Patronizing a Prostitute
Connecticut General Statutes § 53a-196i – Commercial Sexual Exploitation of a Minor
Defenses to Connecticut General Statutes C.G.S. § 53a-82 – Prostitution
There are many defenses to prostitution allegations. The statute itself creates several statutory defenses to the crime.
The statute provides an affirmative defense for anyone charged with prostitution who was a victim of C.G.S. § 53a-192a Trafficking in Persons or the Federal Crime of Trafficking in Persons 18 US Chapter 77. Anyone accused of prostitution who was compelled or coerced by a third party to engage in prostitution would have a statutory defense to the crime of prostitution. As an affirmative defense, the defendant has the burden of proving these facts, although the defendant does not have to prove it beyond a reasonable doubt. When establishing an affirmative defense, the standard of proof is a lower standard of proof of the preponderance of the evidence. In these situations, someone who is charged with the crime of prostitution would present evidence that a third party forced them or compelled them to engage in prostitution. In practice, many prostitutes who are victims of human trafficking are scared of testifying against their abusers and usually do not want to testify about the abuse they suffered.
The statute provides a statutory presumption that anyone aged 16 or 17 years old who is charged with prostitution is a victim of C.G.S. § 53a-192a Trafficking in Persons. In over 30 years of practice, I have never seen anyone under 18 charged with prostitution. The statute would make such prosecutions very difficult given the presumption that it is presumed that 16 and 17-year-old prostitutes are the victims of human trafficking.
Also, the statute expressly states that nothing in the statute itself shall limit the right to claim the defense of duress. This means that if you have been charged with prostitution and someone was forcing you or threatening you to engage in prostitution in some way, you may be able to use the defense of duress. Duress could be considered a milder form of human trafficking.
Entrapment is often a valid defense of prostitution arrests. Most prostitution arrests in Connecticut are the result of sting operations conducted by undercover officers posing as johns. When these officers go over the line and induce someone to engage in criminal activity, then entrapment would be a legal defense.
The accelerated rehabilitation program is an available option to resolve prostitution arrests without having to plead guilty of wind up with a criminal record. This program is available for anyone without a prior criminal conviction who has not utilized this program in the past ten years. It is an excellent option for anyone who is facing an allegation of prostitution to have the charge dismissed without winding up with any criminal record.
Often resolution of prostitution allegations involves the requirement that the suspect participates in sexually transmitted disease testing. The theory used is that the undercover operative who made the arrest may have been possibly exposed to some illness during the investigation. In my opinion, this kind of testing is just employed to humiliate and degrade prostitution suspects who usually had no sexual contact with an undercover police agent.
Penalties
The penalty for a violation of C.G.S. § 53a-82 – Prostitution is a Class A misdemeanor for which you can face up to a year in jail and a fine up to $1,000.
Criminal Defense for Prostitution Allegations
If you have been arrested for prostitution in violation of C.G.S. § 53a-82, you should immediately speak to an experienced Connecticut criminal lawyer. Stamford criminal lawyer Allan F. Friedman has over 30 years of experience defending prostitution allegations. Attorney Friedman will work hard to get the charges against you dismissed or significantly reduce the possible penalties.
For more information about defending prostitution allegations in violation of C.G.S. § 53q-82, contact Stamford criminal lawyer Allan F. Friedman at The Law Offices of Allan F. Friedman to arrange your free, no-obligation, initial consultation. Our offices are located at 1100 Summer St #306, Stamford, CT 06905. Mr. Friedman can be reached 24/7 at (203) 357-5555, or you can contact us online for a prompt response.